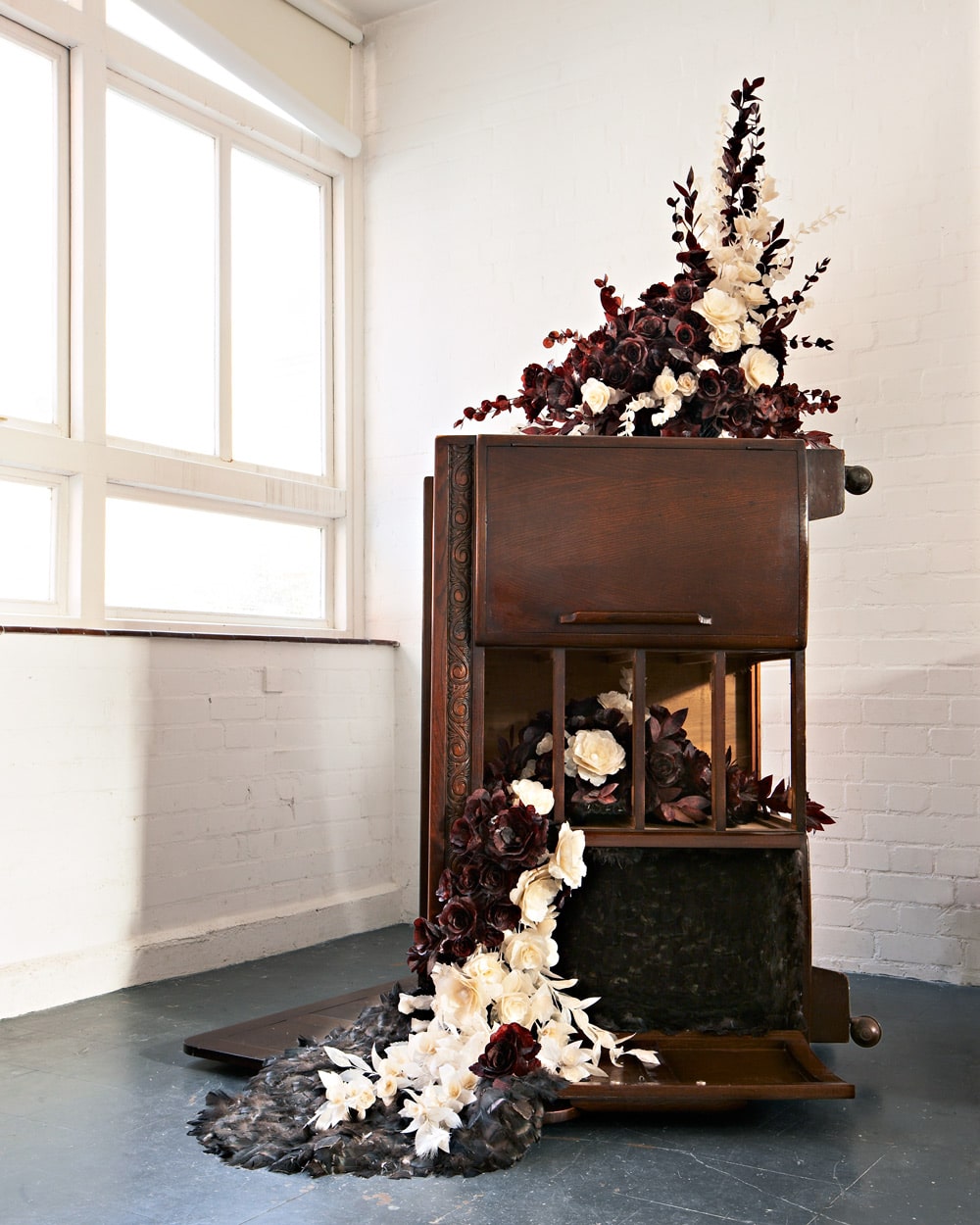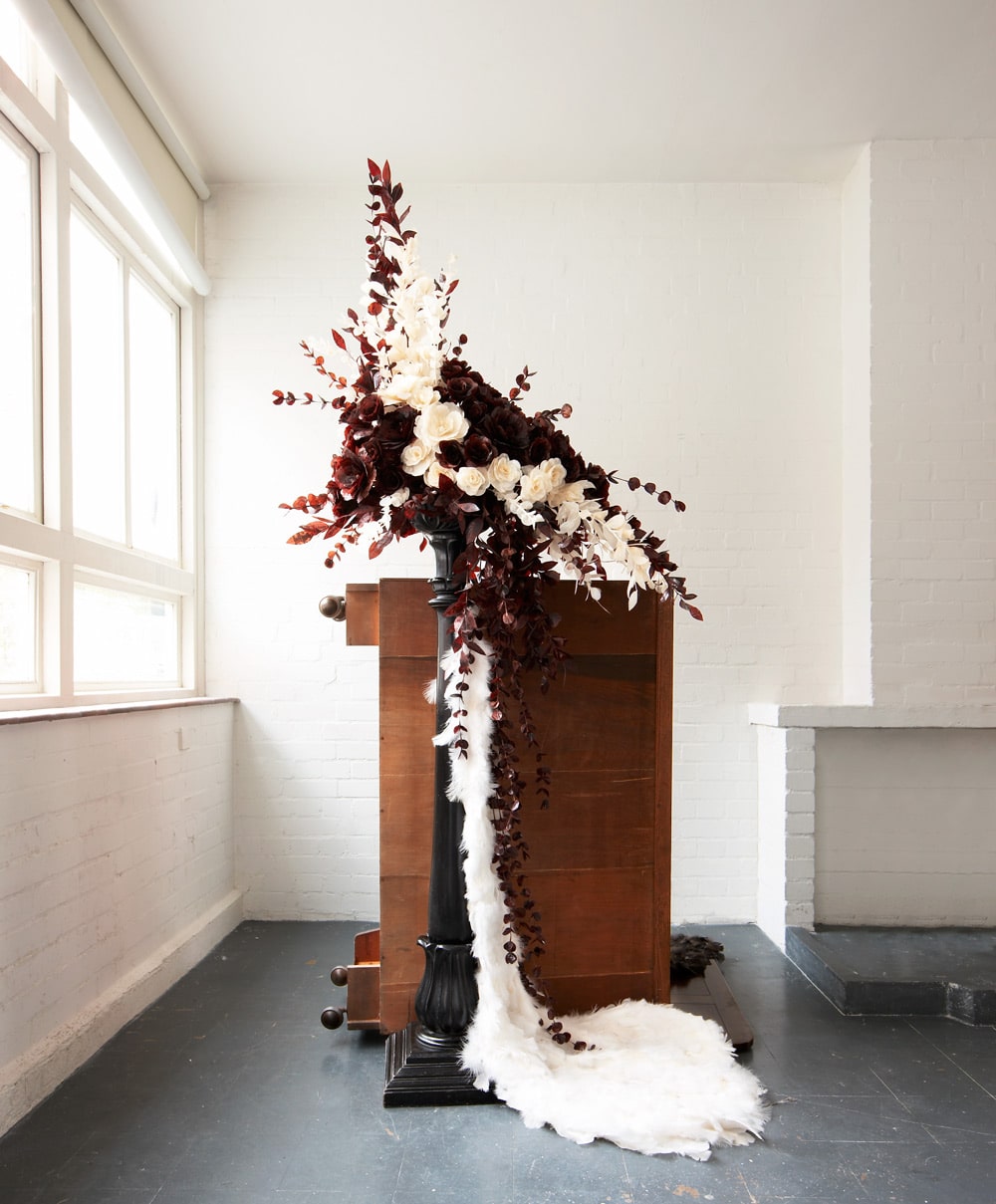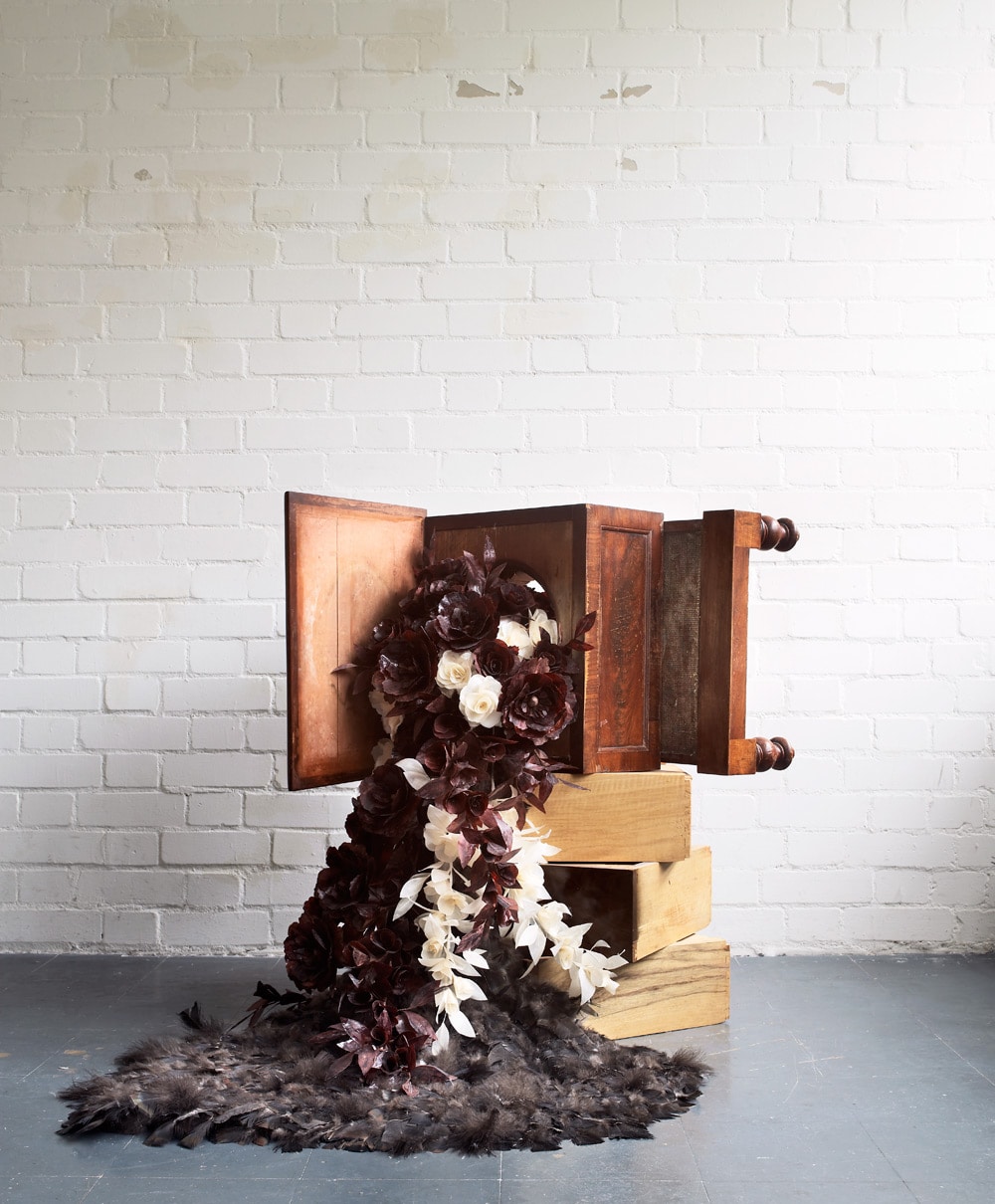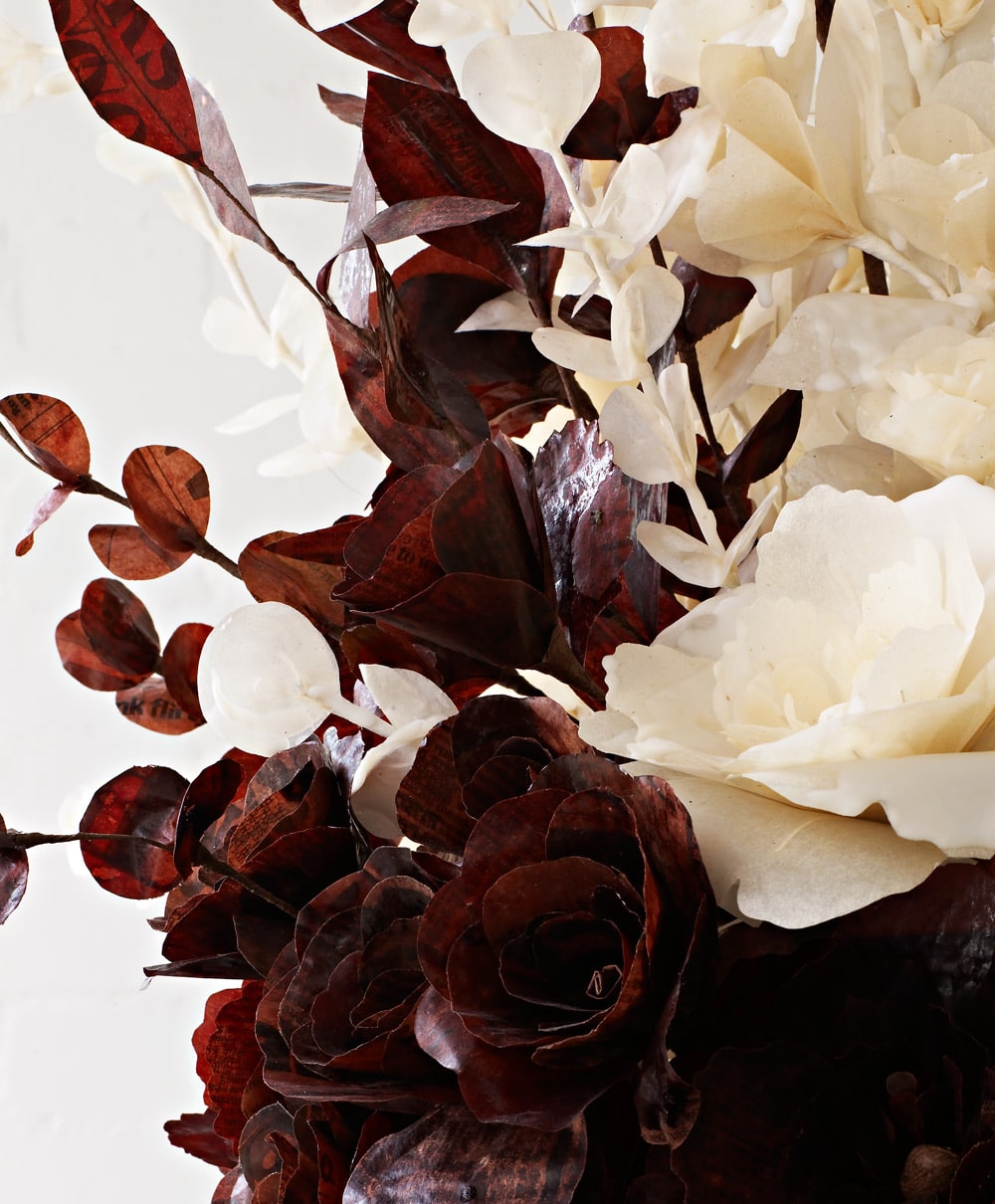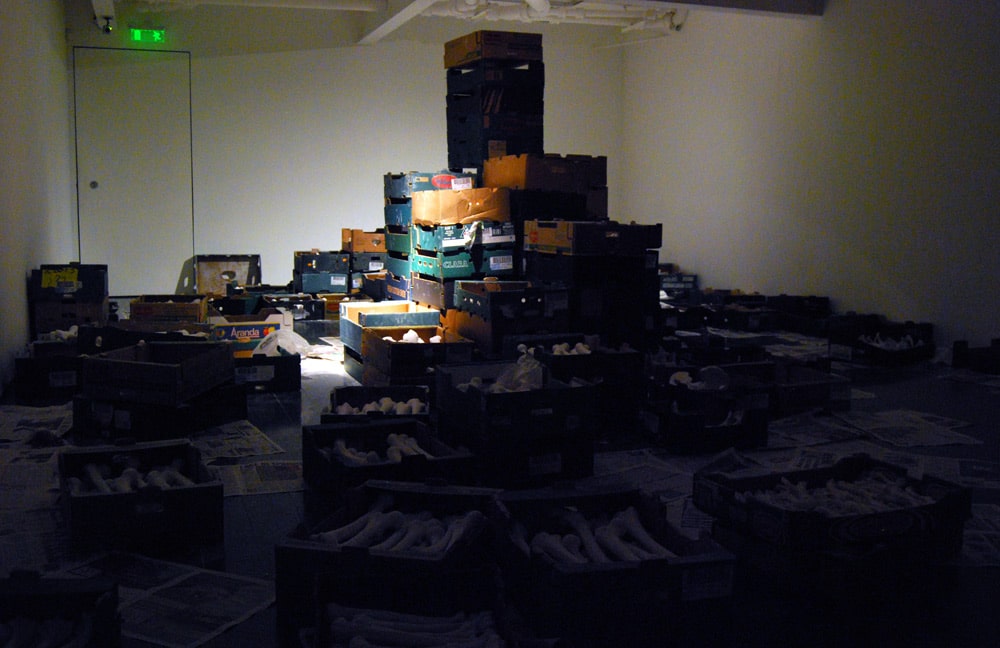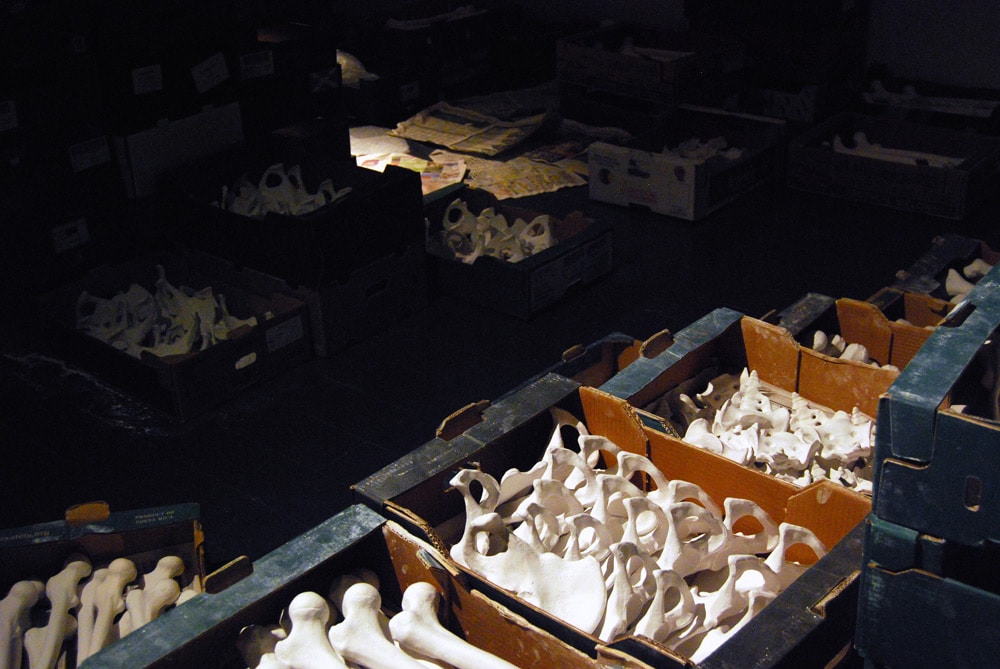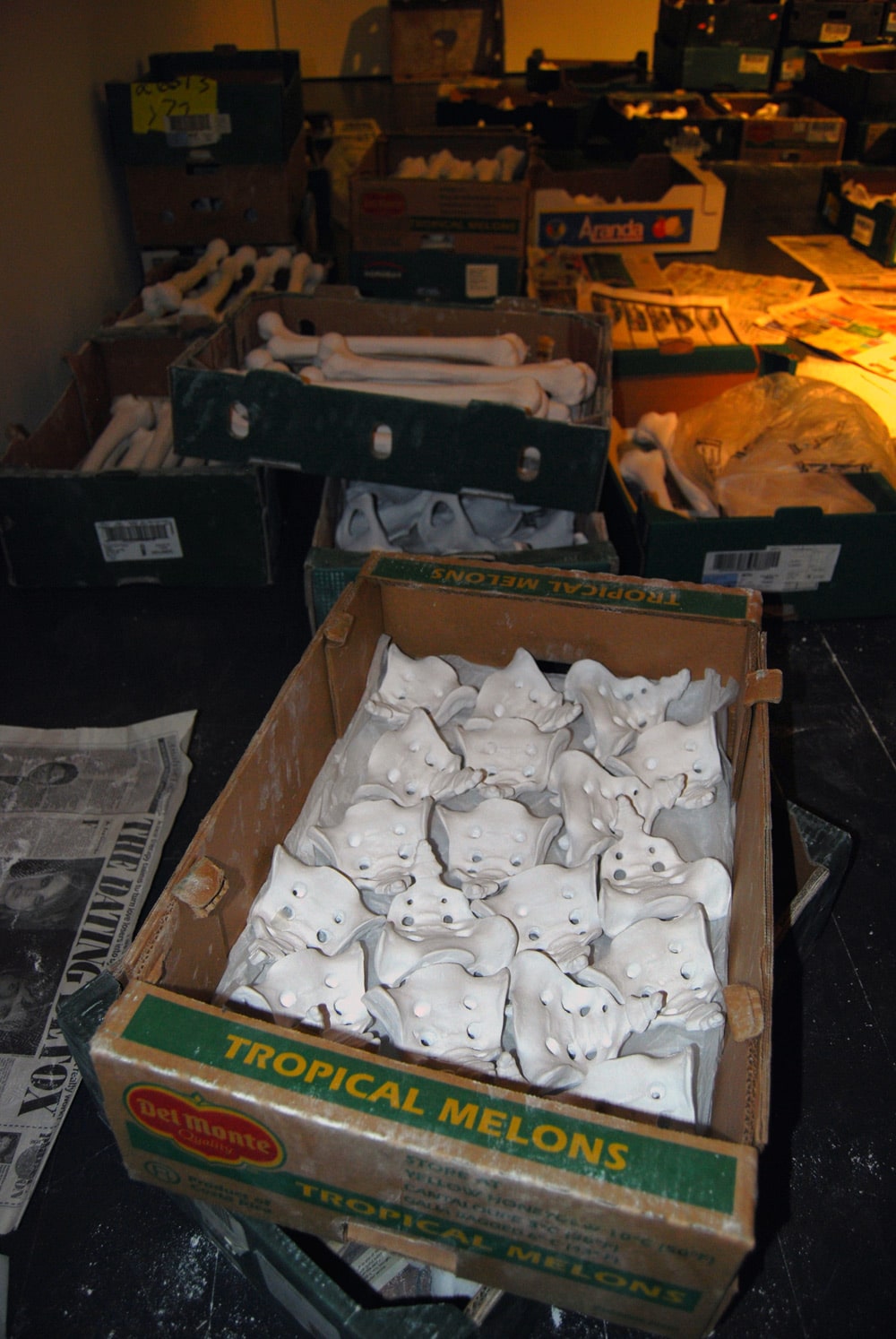 Alexa Goethe Gallery
2008
The Alexia Goethe Gallery is proud to present Jodie Carey's first London solo show. Her work focuses on the traditions of ritual, artifice and mortality in contemporary Western Society. Transforming the gallery, her large-scale sculptures and installation use newspaper dyed with blood, grease proof paper coated in lard, feathers, antique furniture and casts of over 3,000 human bones.
For this exhibition at the Alexia Goethe Gallery, Jodie Carey will show three sculptures ranging from 1-3 metres in height. A combination of the found and the handcrafted coalesce to create physical still lives with strong ecclesiastical and ritualistic overtones. Reproduction furniture such as display cabinets, chests and tables are stacked high, festooned with ornate constructions of individually hand crafted paper flowers and feathers.
The sculptures or "assemblages" in the downstairs space represent the commemorations and celebrations of death through the rituals we undertake and public gestures we make. They stand as still lives from past lives evoking a desolate, transitory beauty, underpinned by an engagingly absurdist eccentricity. On closer inspection one sees that the petals of the flowers have been coated in blood and lard, drawing out more sinister undertones. The cold, morgue-like environment that Carey has created upstairs works in dialogue with the sculptures. Boxes of bones, seemingly shipped in, dumped and neglected, acts as the anchor to the exhibition confronting us with the stark reality of death. The contrast between the abandoned atmosphere of this dark installation of 3000 handcrafted bones with newspaper-strewn floor and the polished, clean assemblages downstairs where the newspaper has been meticulously sculpted into stunning flower arrangements, reflects the frequent disparity between private and public grief. The cardboard boxes more familiar to a warehouse or closing time on a market street here embody the inescapable fact that however individual we may be in life, we shall eventually be reduced to the same remnants, one set of bones being almost indistinguishable from the next.
The exhibition as a whole ruminates on perceptions of mortality informed by notions of ritual, religion, and the Sacred, continuing the themes of ceremony, death and artifice that thread consistently throughout Carey's practice. The monumental scale is juxtaposed with the intimacy and intensity of her obsessive craftsmanship. The use of craft, skill and time transforms lowly materials into the wondrous and spectacular. Carey offers beauty whilst simultaneously confronting us with the ugliness of life.
At once political and personal, it marks Carey's increasingly universal treatment of the modern malaise, broadening her earlier focus on the ceremonious ostentation of Middle England through her large baroque-inspired chandeliers (Untitled, 2006) made of Hoover dust that was painstakingly rolled into tiny balls and then fixed to curved wire frames. Carey: "Hoover dust is the detritus of everyday life. If you die tomorrow, all that would be left of you would be in your Hoover."
The breathtaking shrines at Still, Life, Carey's debut London solo show herald both the ritual of mourning and the intransigence of life, playing on the perception that traditional memorials have an opposite effect to their intent: "There is a perversity in that once you commemorate something, it is far easier to walk away. It's not lest we forget, it's more lest we remember."