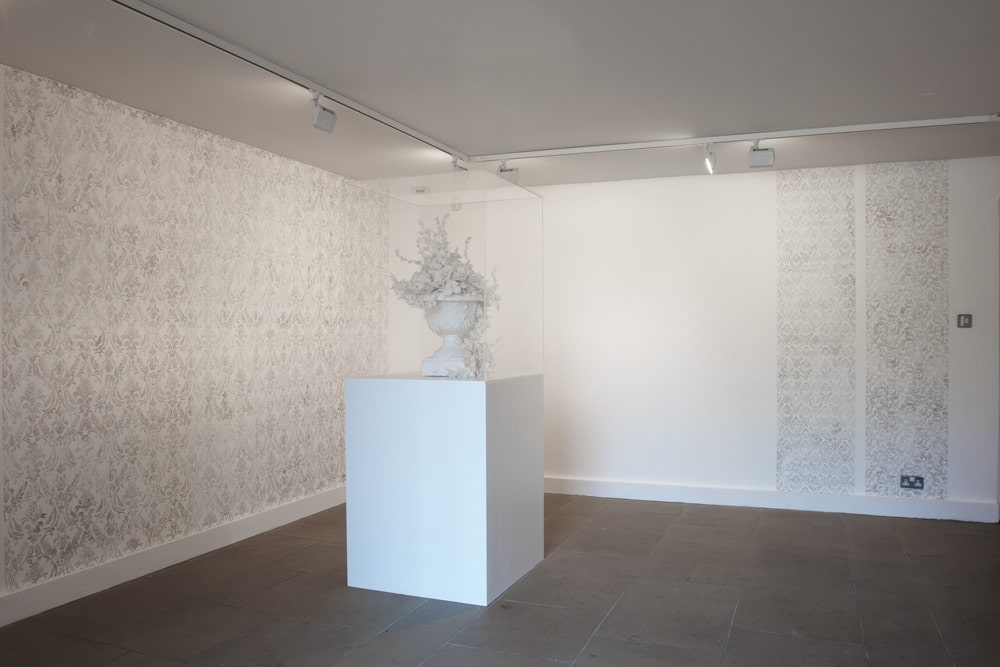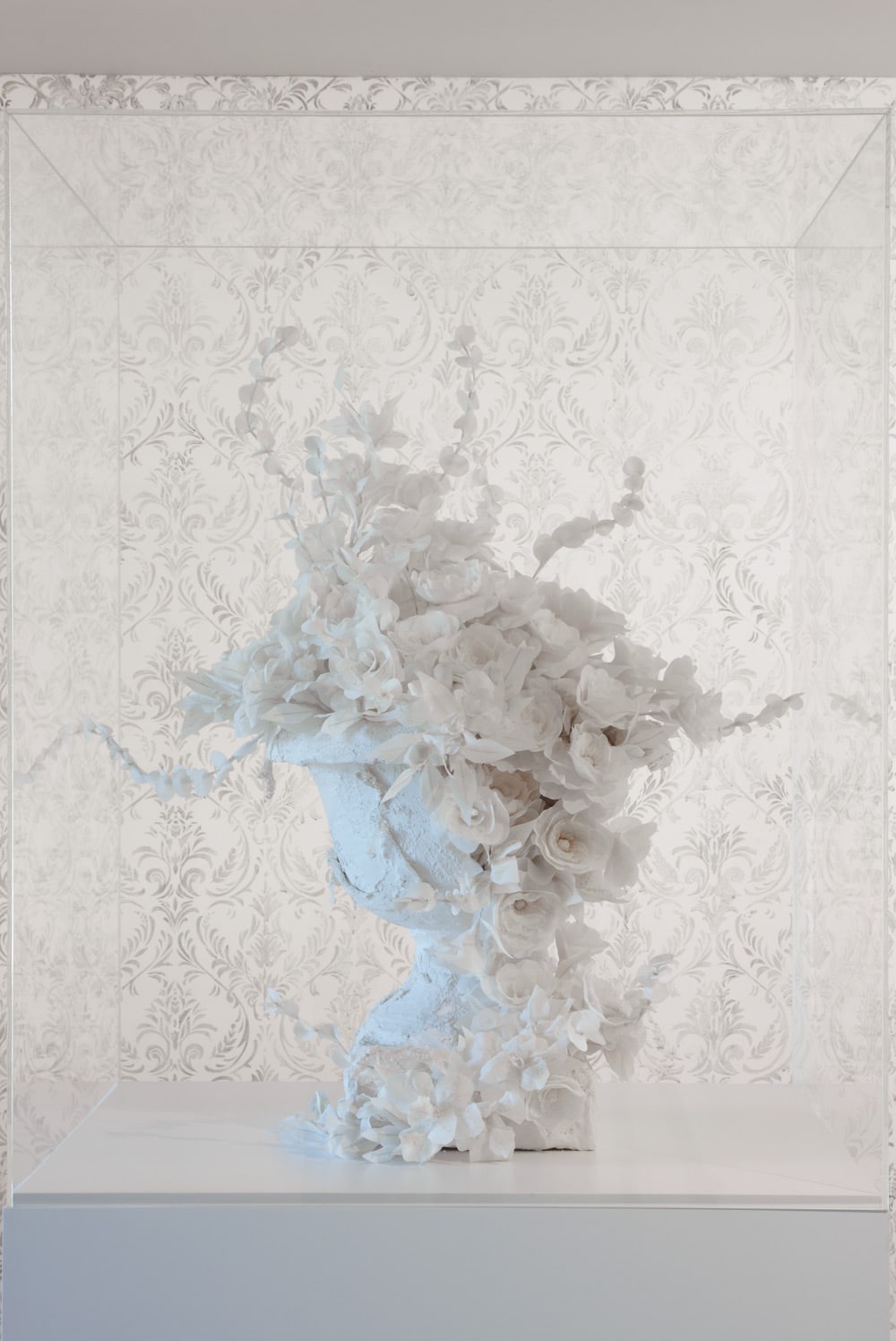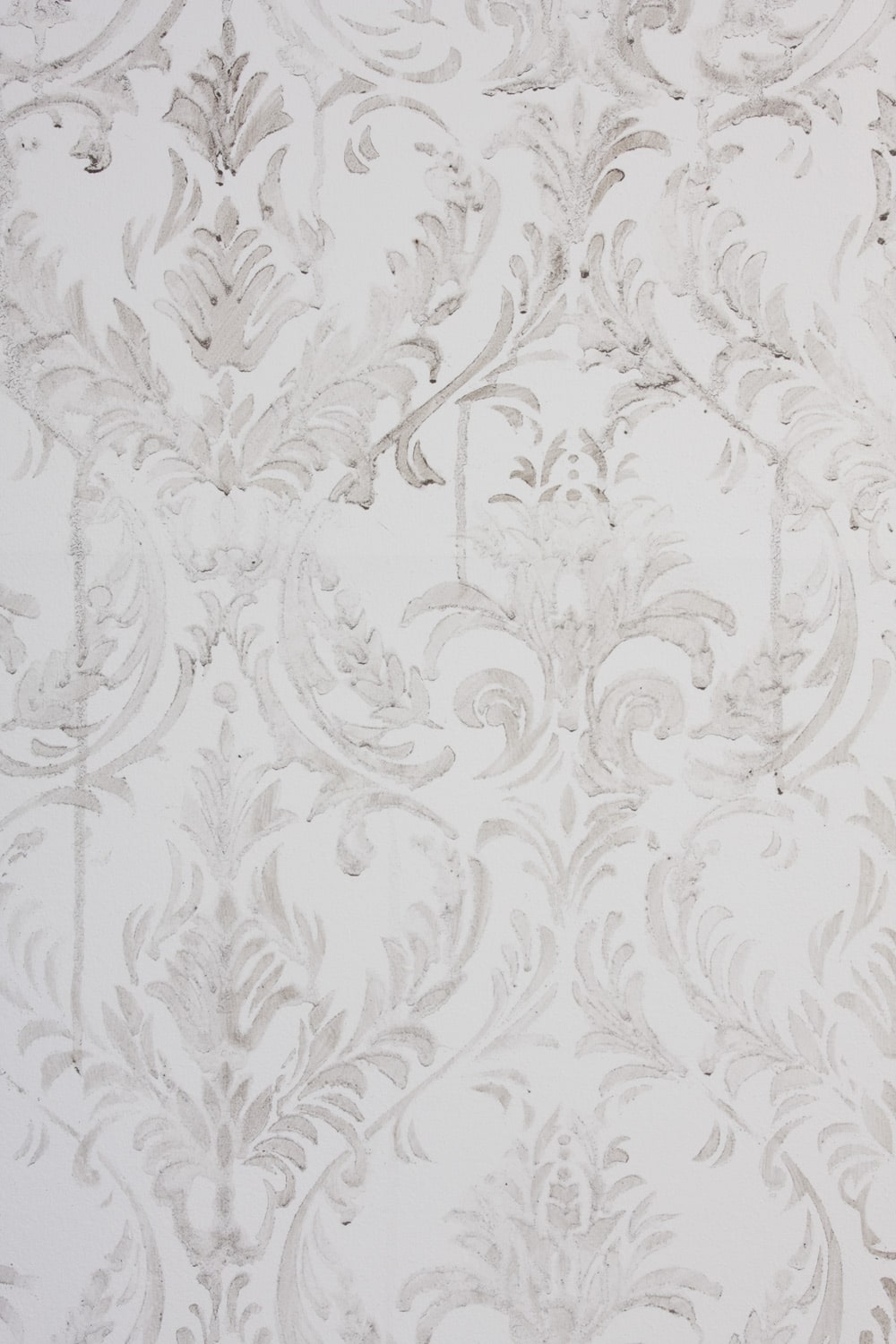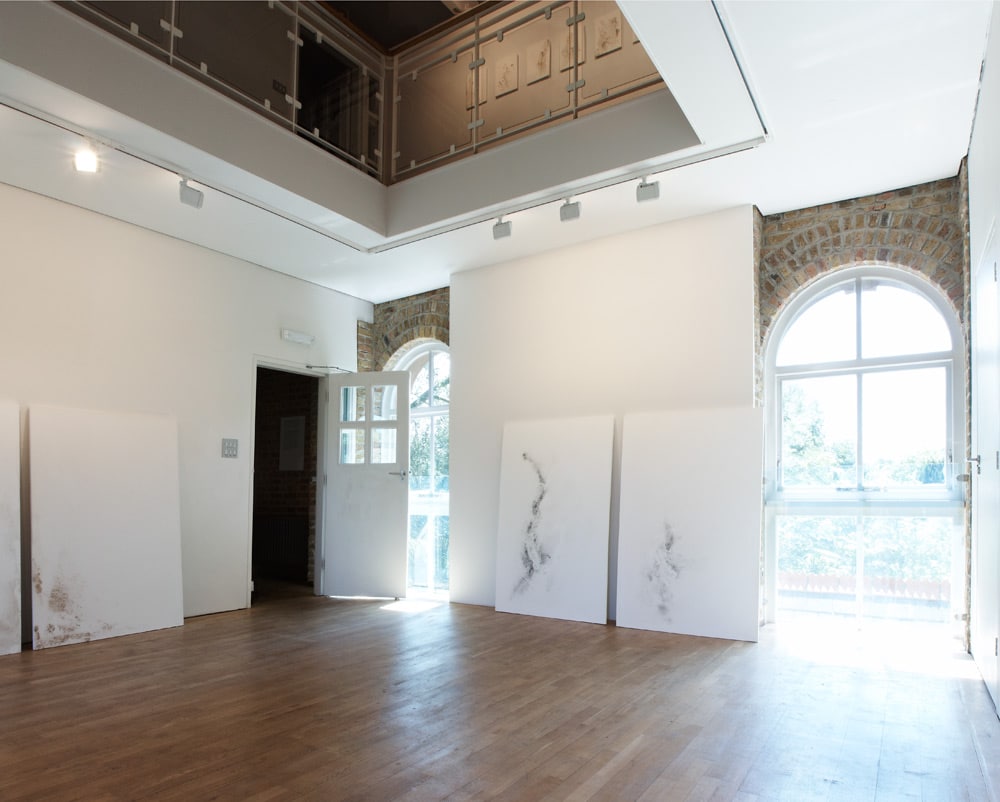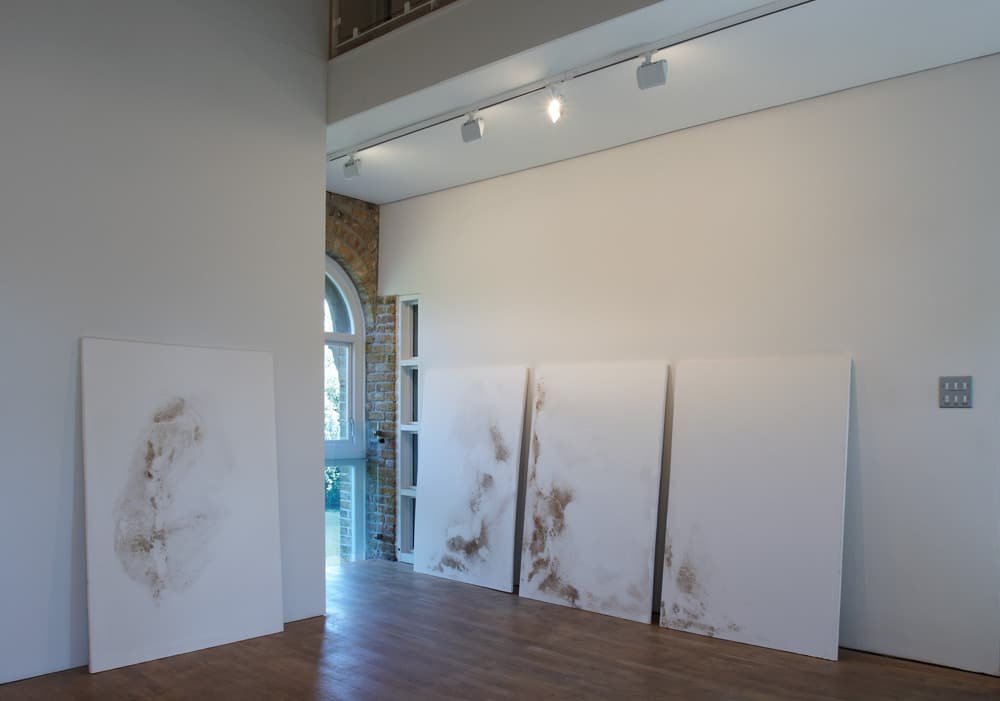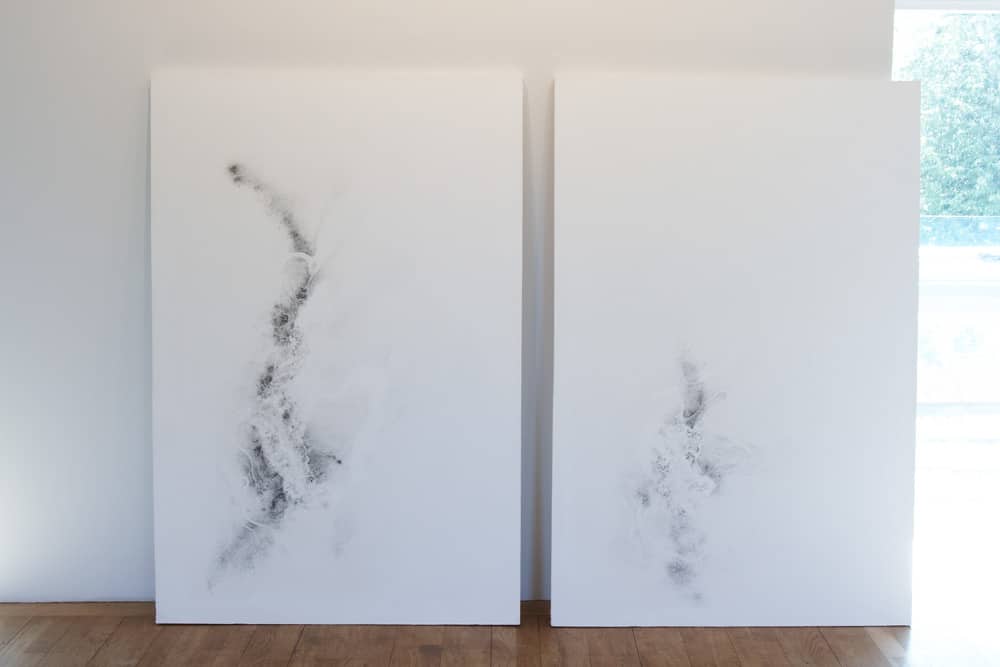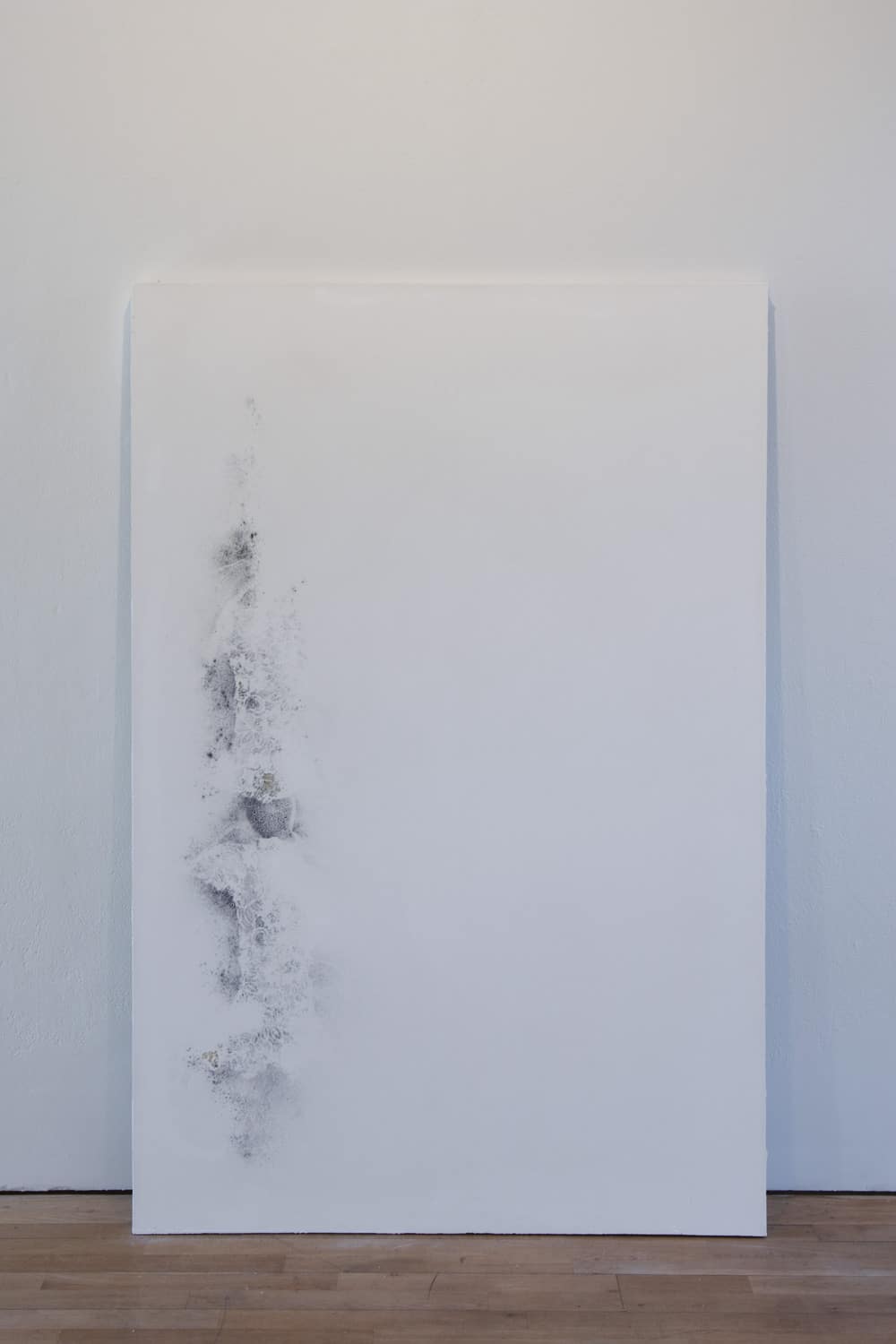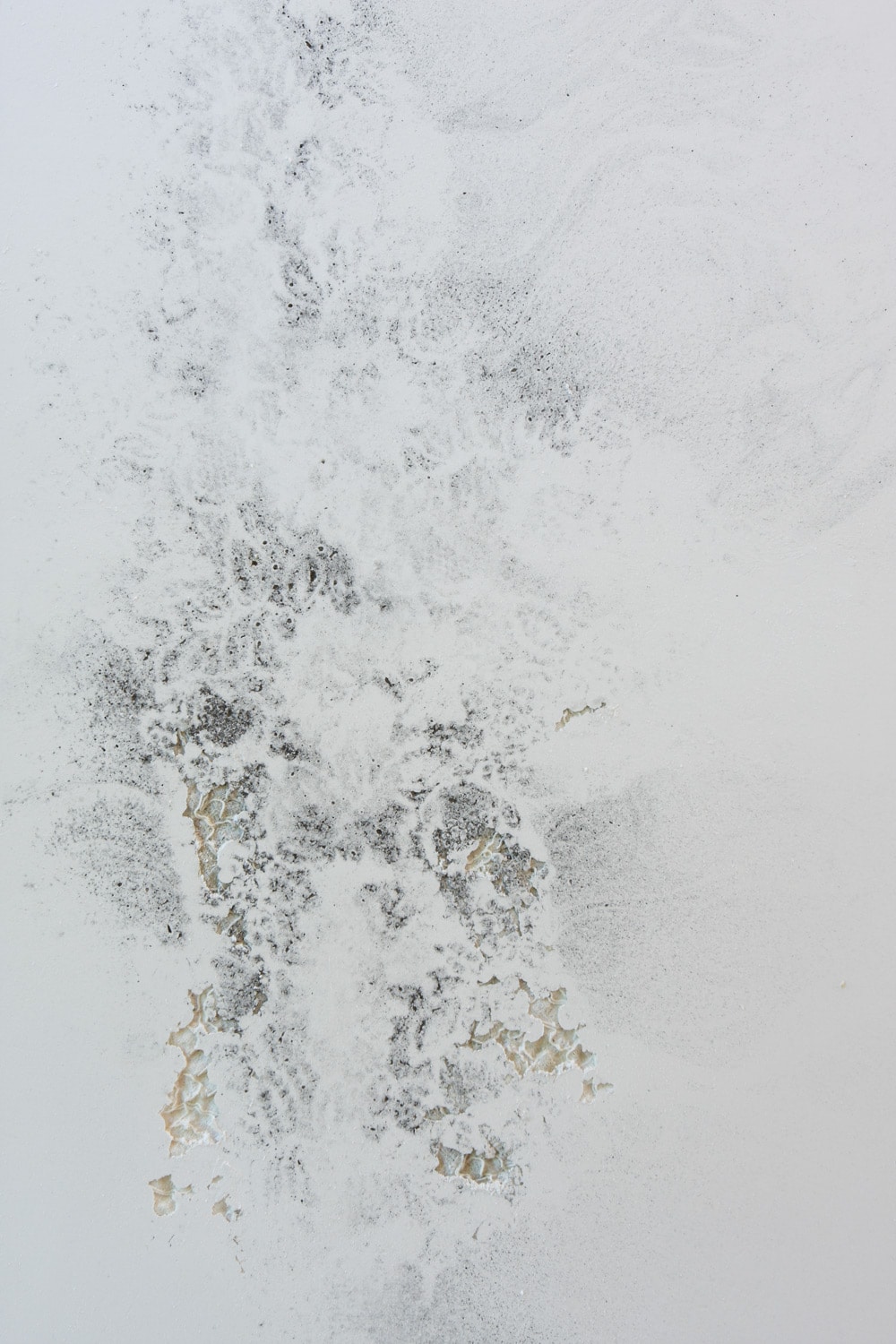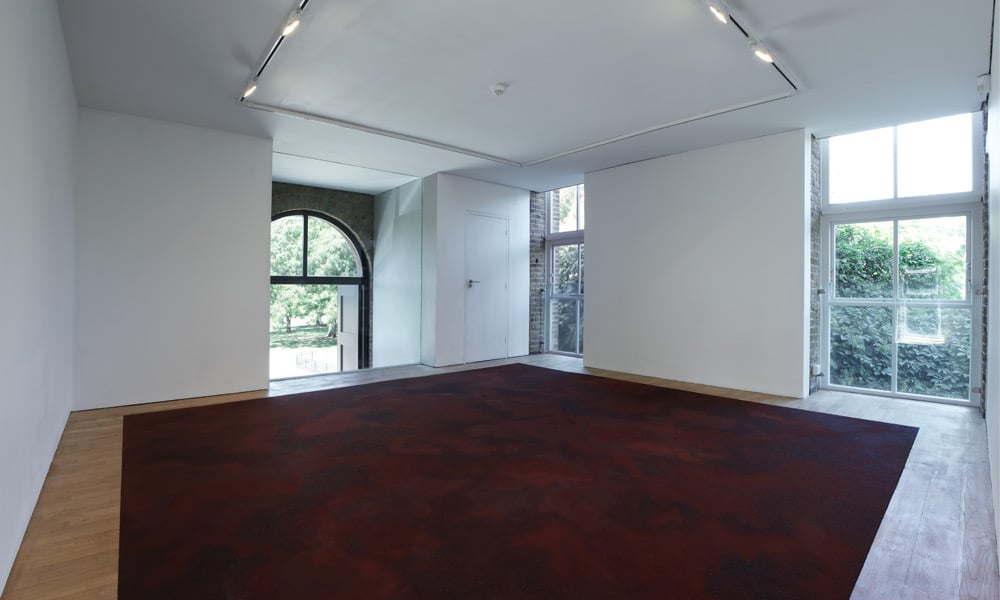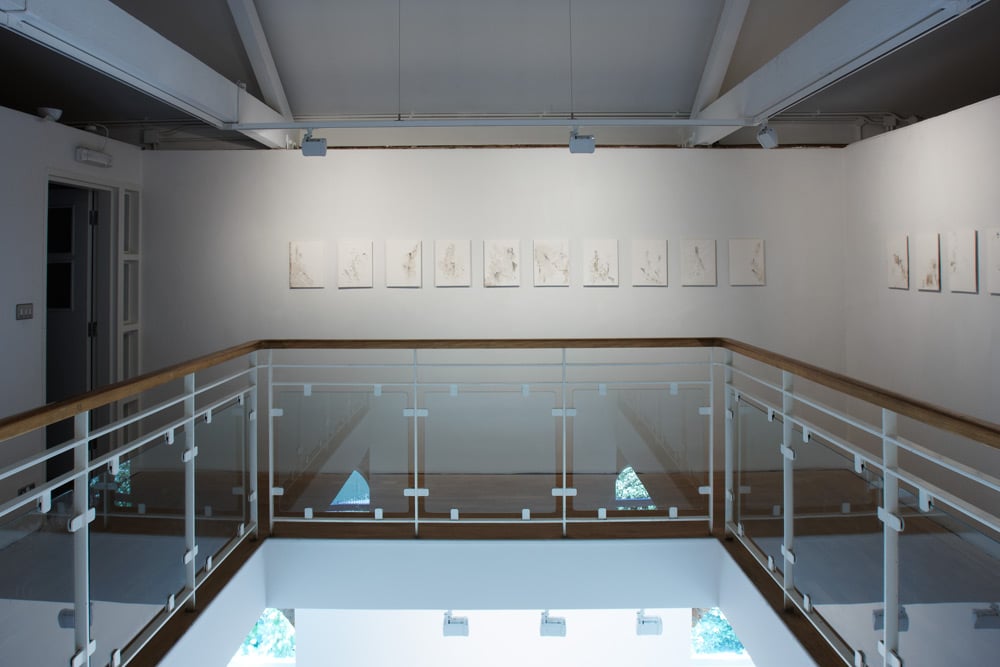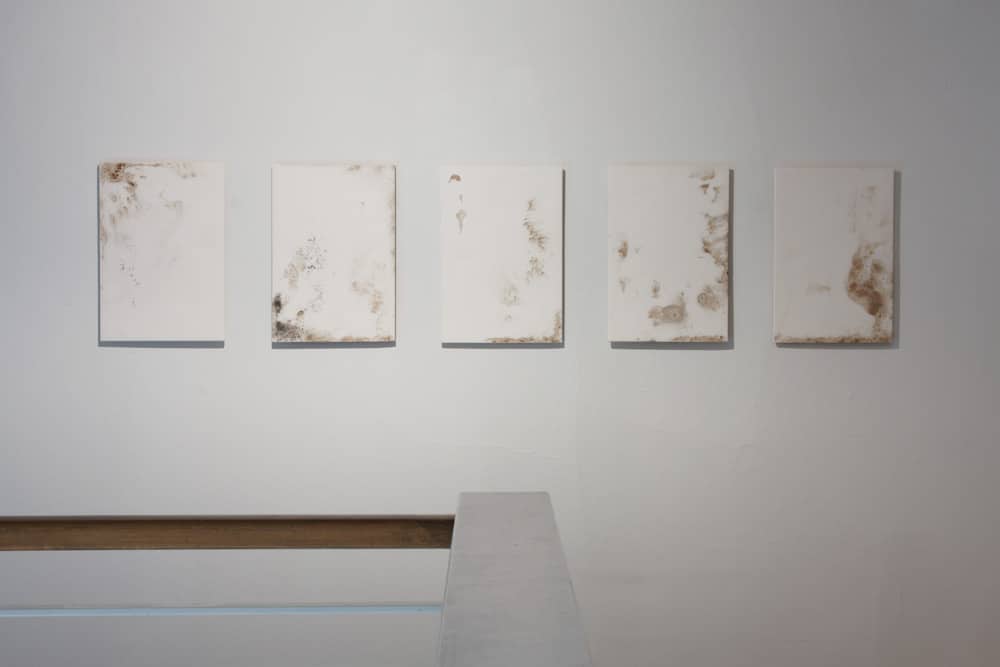 The Pump House Gallery
2011
Somewhere, Nowhere centres around ideas of time, memory and materiality. The focus is on a transitory, ephemeral and corporeal beauty, evoking notions of time passing, memories fading, absence and loss. Materials such as blood, bone and ash become pigments that stain the floor and mark the walls; traces of life simultaneously anonymous and intimate.
Evoking the idea of a home and its history, Somewhere, Nowhere uses the house as a metaphor for humanness. It speaks of peeling wallpapers, stained carpets, of life's general wear and tear and the fragility and vulnerability of human life.
Many of the substances Carey works with have strong associations with the body. Their presentation evidences a concern with how the human presence leaves a mark on its environment, and the etching of memories into the mind. The use of everyday detritus such as newspaper, coffee and cigarette ash sees the artist exploring the corporeal through the domestic.
By stripping back some of the theatrical elements of her practice and amplifying the formal qualities of the materials Somewhere, Nowhere offers a more restrained and poetic expression. Her piece Untitled (Blood Dust) carpets the first floor of the gallery in a simple but intense red rectangle of dried blood. The use of blood – which has been dried and ground before being spread on the floor – makes for a meditation on the body; here being laid bare the actual stuff of life. Its visual seductiveness is at odds with the potentially repellent visceral associations of the material.
Carey frequently uses lowly or bodily substances, endeavouring to transform them into something that can offer beauty yet still convey some of the reality and ugliness of life. The melancholic and fleeting beauty of Carey's work speaks eloquently of the transitory nature of life. Stains fade, dust scatters and despite the delicacy of their construction, Carey's materials are undeniably still remains; unstable and ephemeral; much like memory, a central theme in the exhibition, which can be both fleeting yet enduring.
In Untitled (Without End) sections of the ground floor gallery walls are washed with cigarette ash and intricate stencils create a repetitive wallpaper motif. Marking the walls directly, the details of nuanced colour and texture create an atmosphere of absence; a mood of ghostly transference.
This atmosphere is perhaps most evident on the second floor, with the presentation of the new series of work Somewhere, Nowhere. Multiple plaster slabs lean against the walls of the gallery like architectural salvage. These are monuments reduced to their essence; stripped bare, unspecific and anonymous. Their surfaces appear mottled by decay but are in fact marked by cigarette ash and coffee. Closer inspection reveals subtle but intricate detailing such as the trace of lacework.  These subtleties, while discrete, are absorbing to the viewer, pulling them into an almost forensic investigation of the traces left and the presences they infer.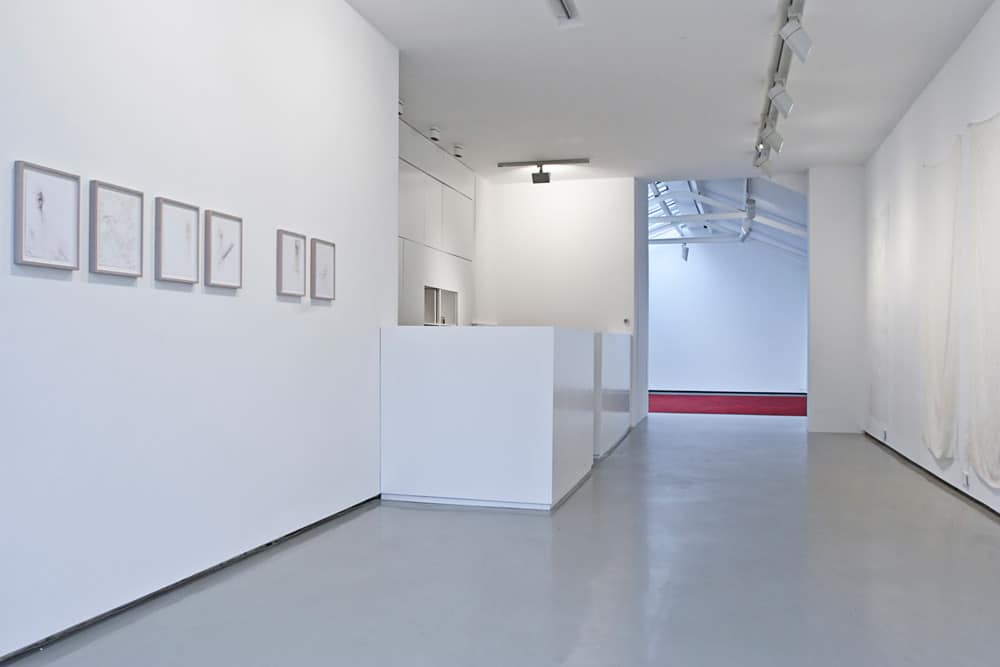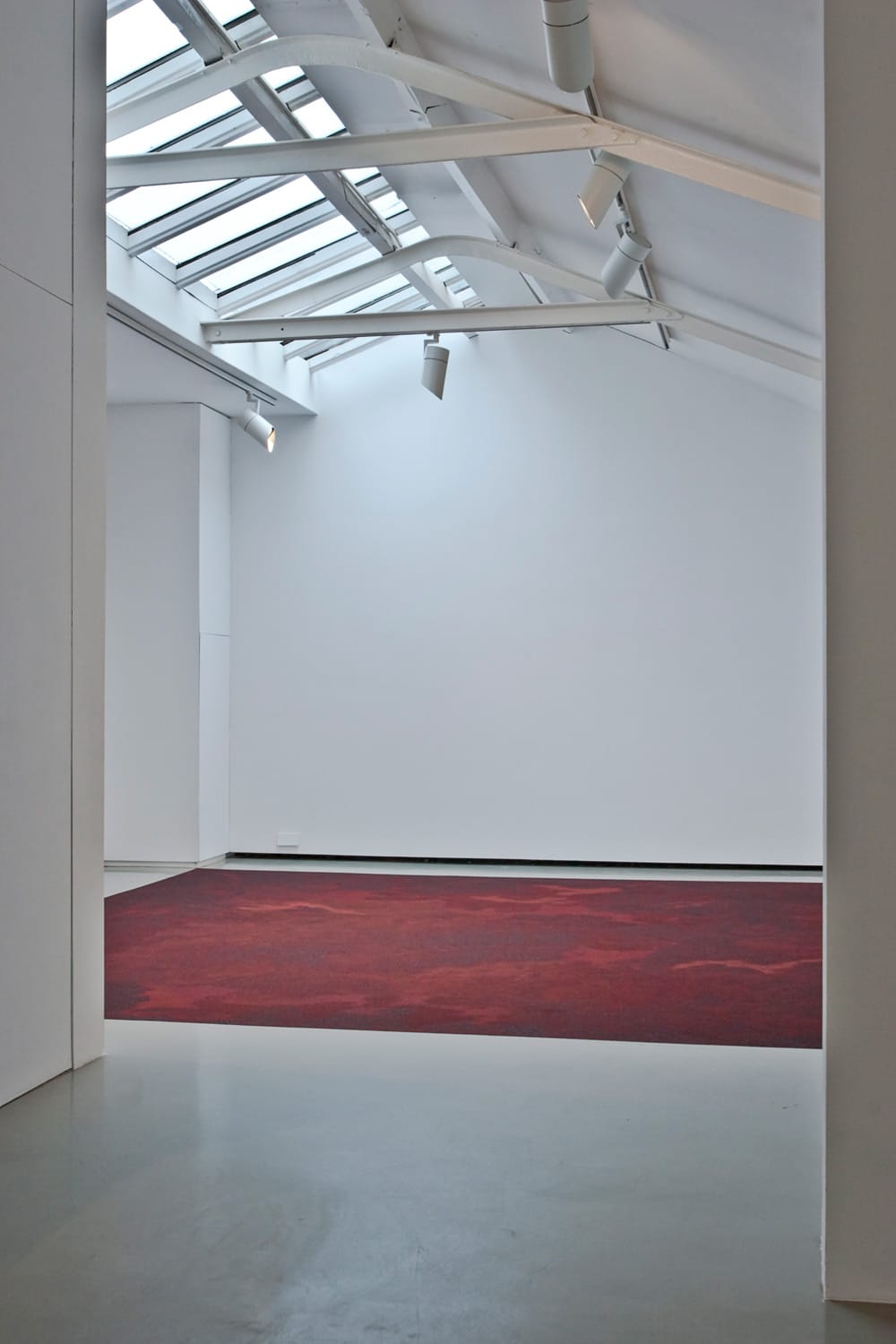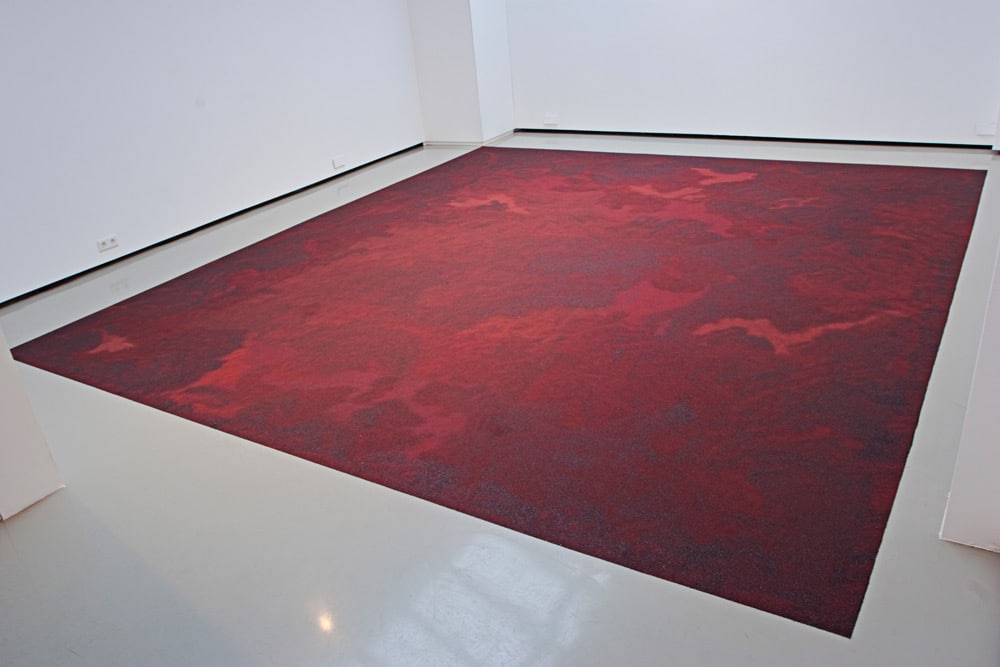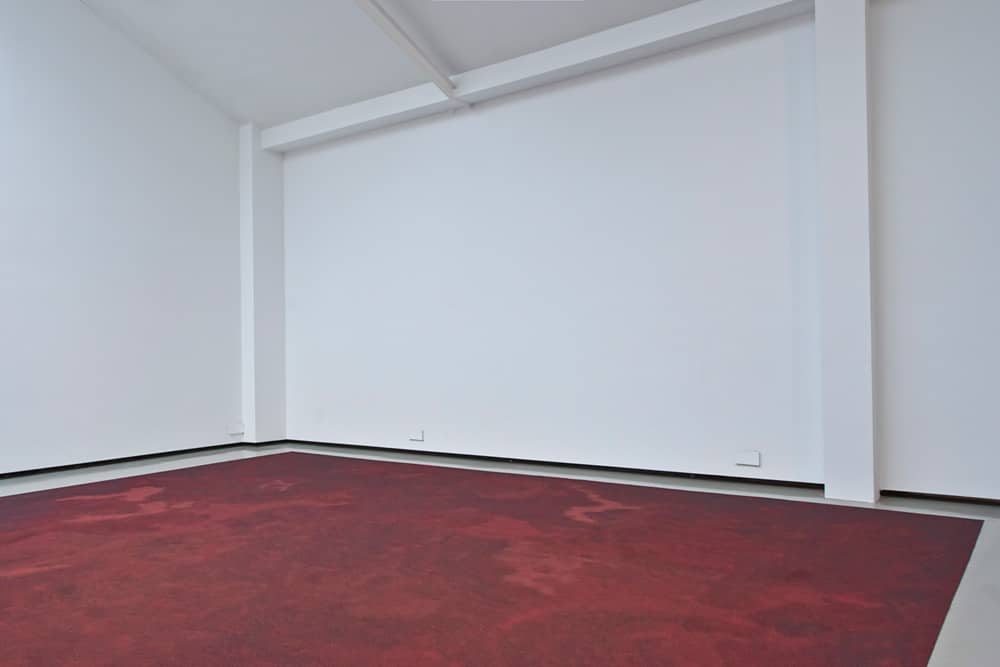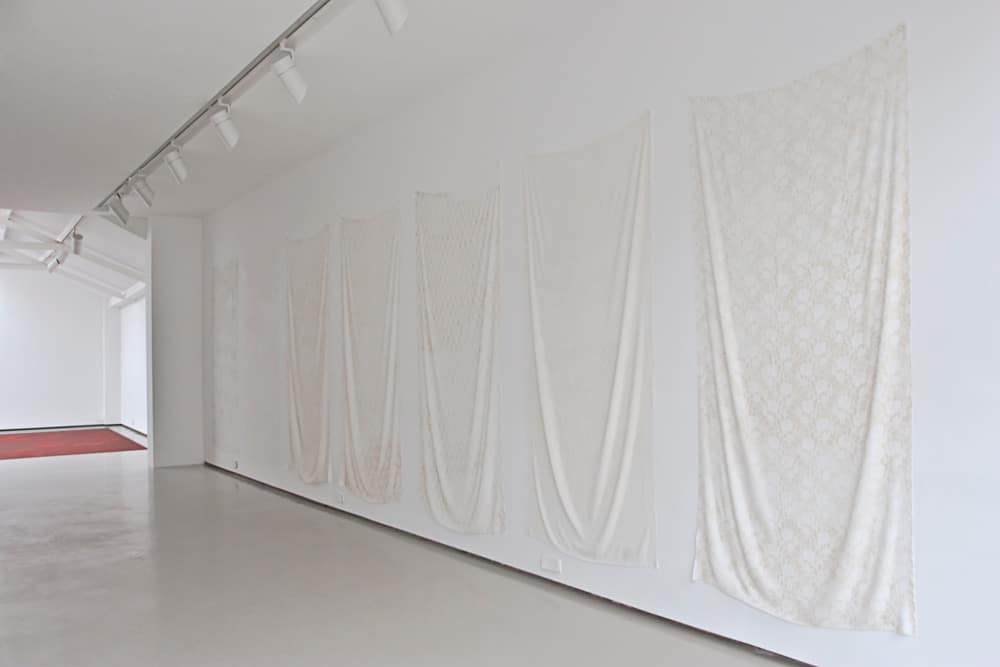 Galerie Gabriel Rolt
2010
Ideas of time, memory, materiality inhabit the works of 'Traces', Jodie Carey's first solo exhibition at Galerie Gabriel Rolt. Her customary materials – such as ash, paracetamol, blood, cement – are reduced to their simplest form: a powder or dust. These are then used as pigments in works that offer a restrained and poetic expression. Stripping back the theatrical and decorative aspects that have previously adorned Carey's sculptures, the works in 'Traces' continue the artist's exploration of life's fragility and its brevity, as well as the resonance and meaning that materials can evoke in sculpture.
'Untitled (Lace)' is a collection of fabric works hanging from the walls. The material is elegant chiffon, which has been tattooed with bone. The delicate weave of the fabric and Carey's markings uniquely distinguish each curtain. There is a tranquility and grace in the material's motion; its softness and the muted colours evoke ageing skin and allude to old net curtains. The details create an atmosphere of absence; Carey instills that sense of history, an aura which objects can gather. A series of ash imprints, beside the drapes, continues this mood of ghostly transference. Marking the walls directly, nuances of colour and texture are created out of this lowly material.
In sharp contrast comes 'Untitled (Blood Dust)'. More dominant, physical, it is a vast rectangle of deep, dense red cloaking the floor. Its edges are precisely defined, allowing the viewer only a narrow border with which to circumnavigate the work. In this colour field, there are abstract, formal connotations, as well as associations to artists like Carl Andre, Felix Gonzalez-Torres. The use of blood – which has been dried and ground before being spread on the floor – makes for a meditation on the body; here being, laid bare, the actual stuff of life. Carey often explores the difficulties and contradictions of building works of art that are beautiful and seductive out of provocative materials; ones which have often uncomfortable or ugly connotations. Here, the blood achieves luxuriousness in its extraordinary range of shade and hue.
This more restrained direction in Carey's practice is by no means a negation of her previous works; rather it is a method of stripping it back in order to locate the essentials of material and mood.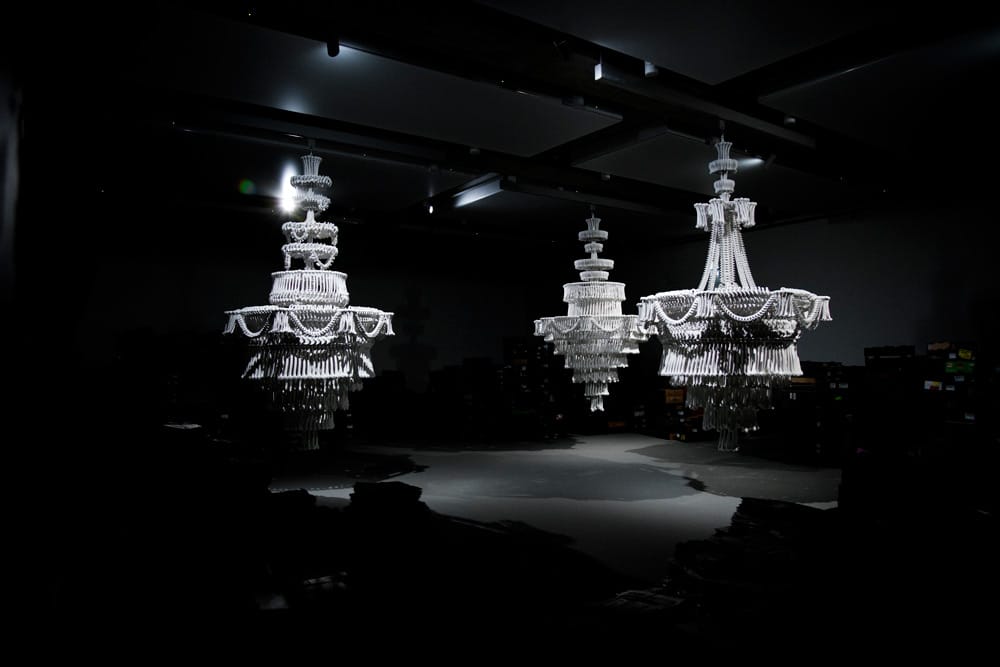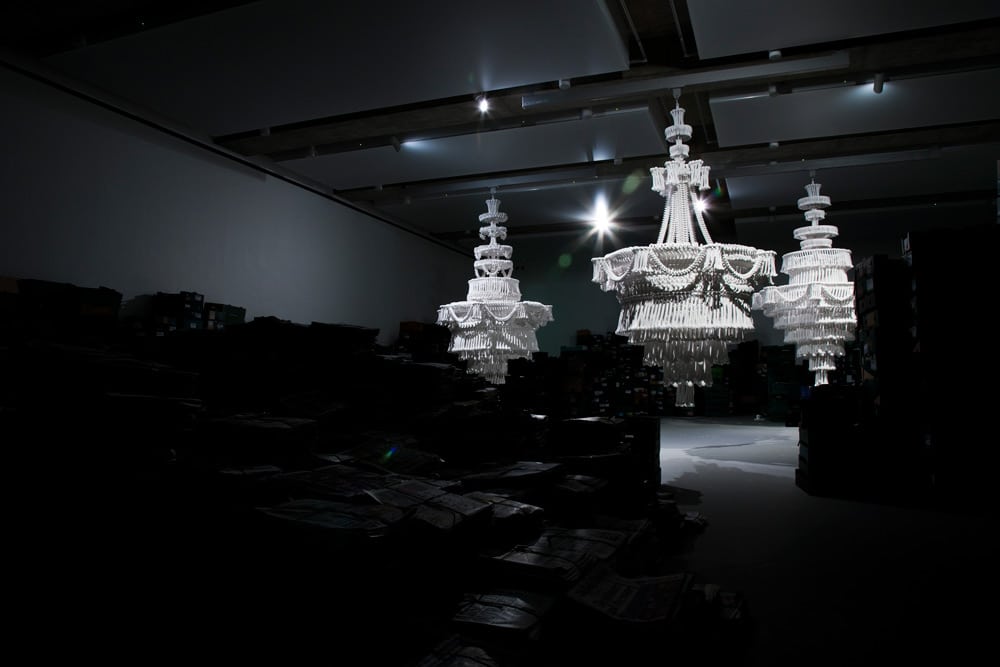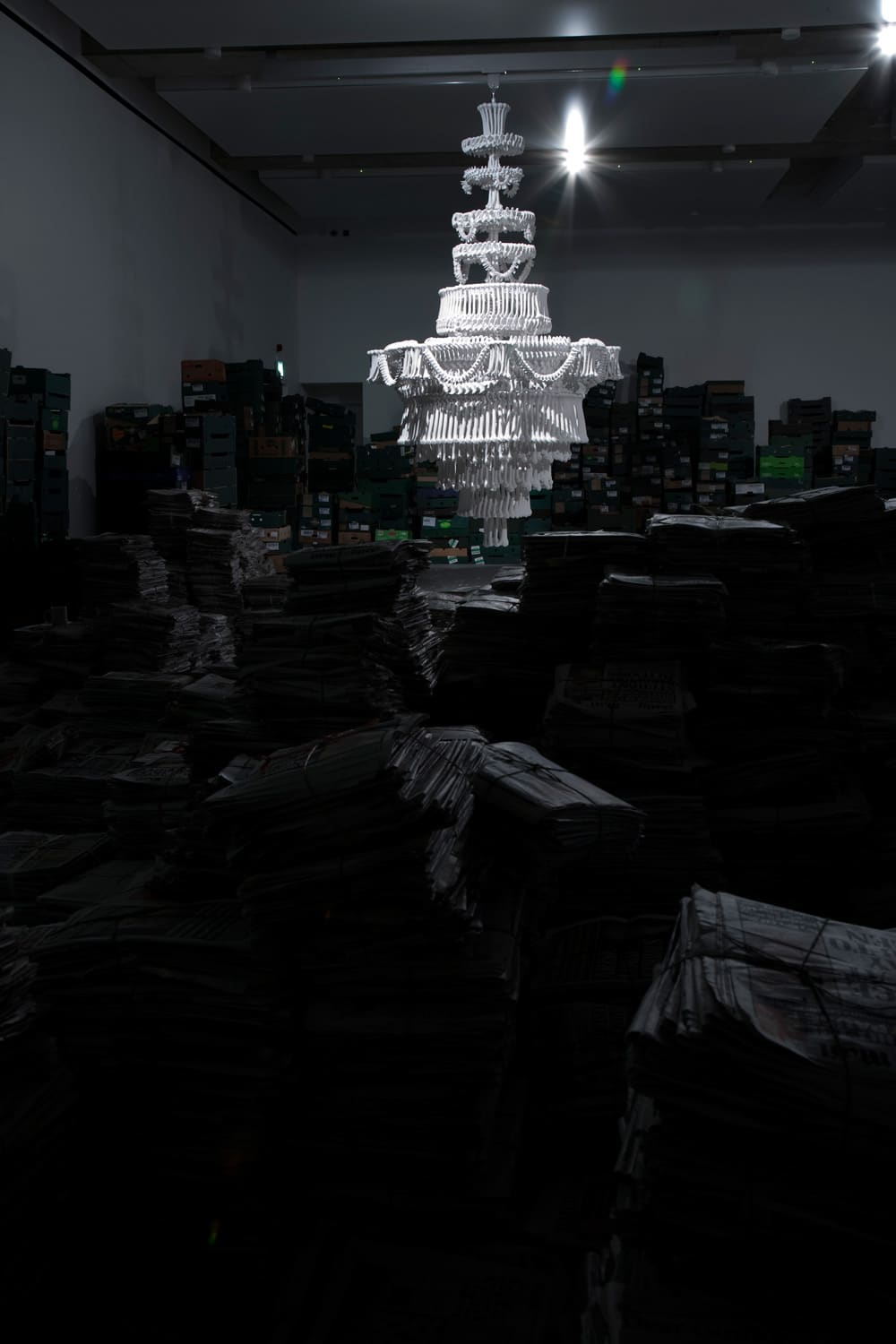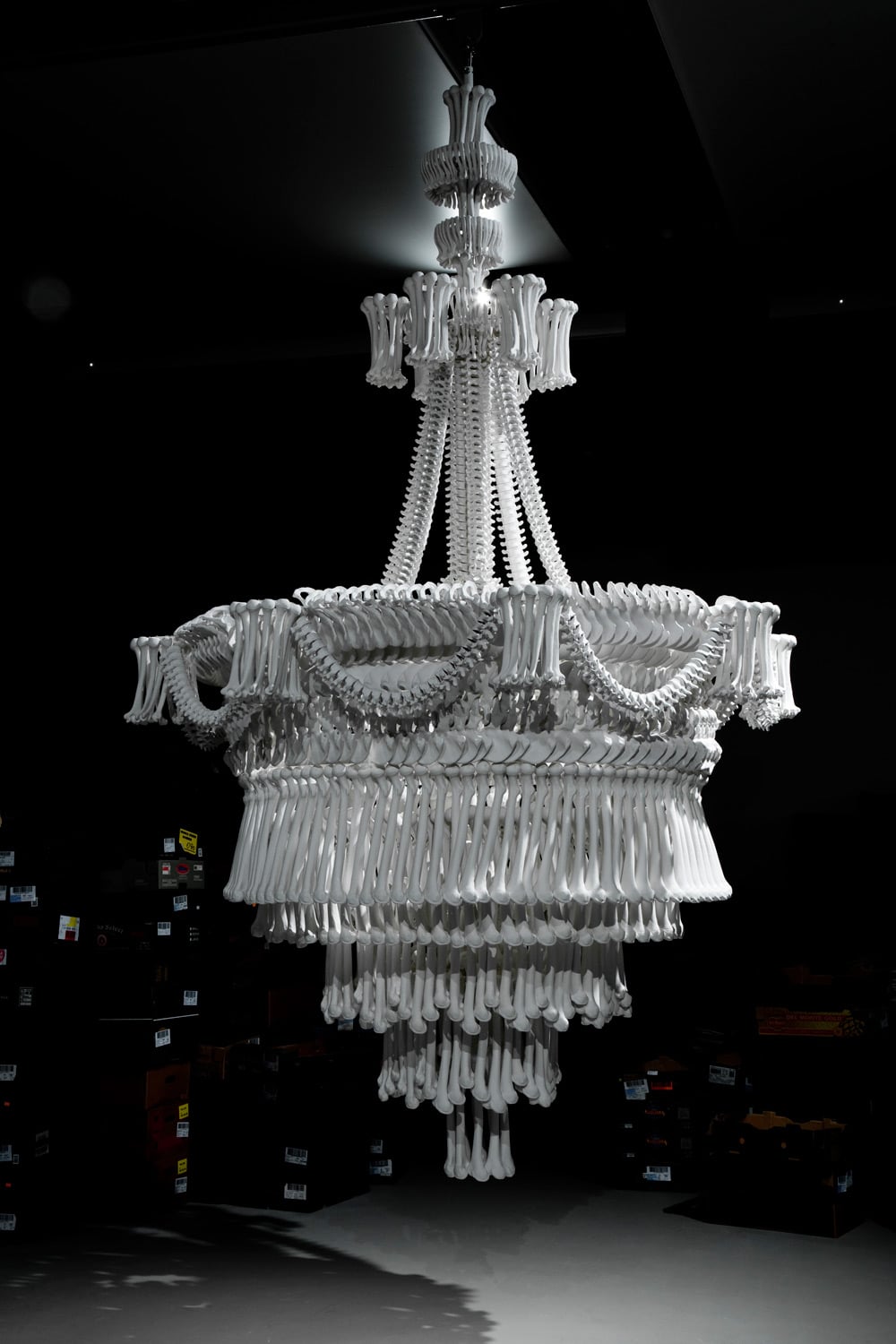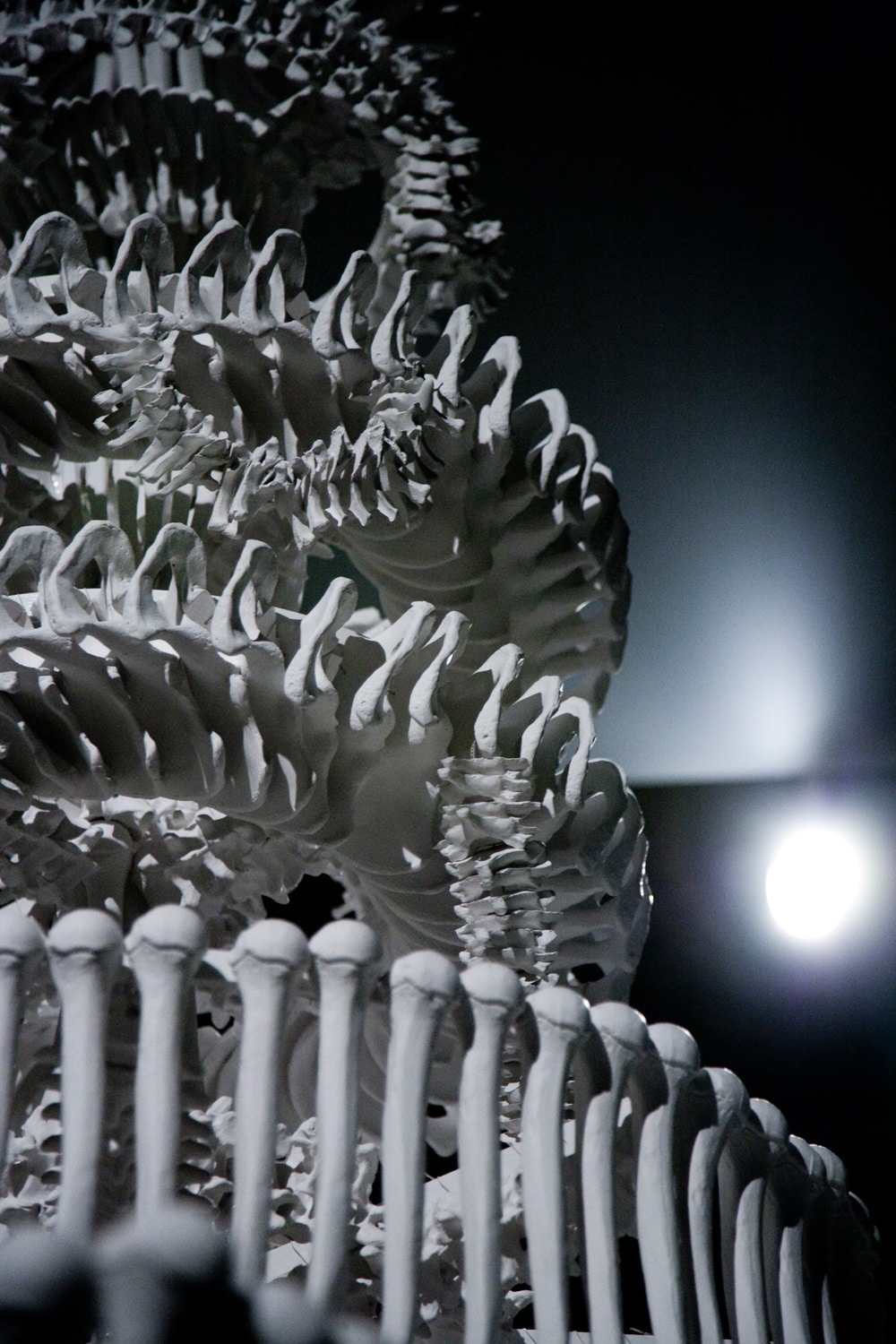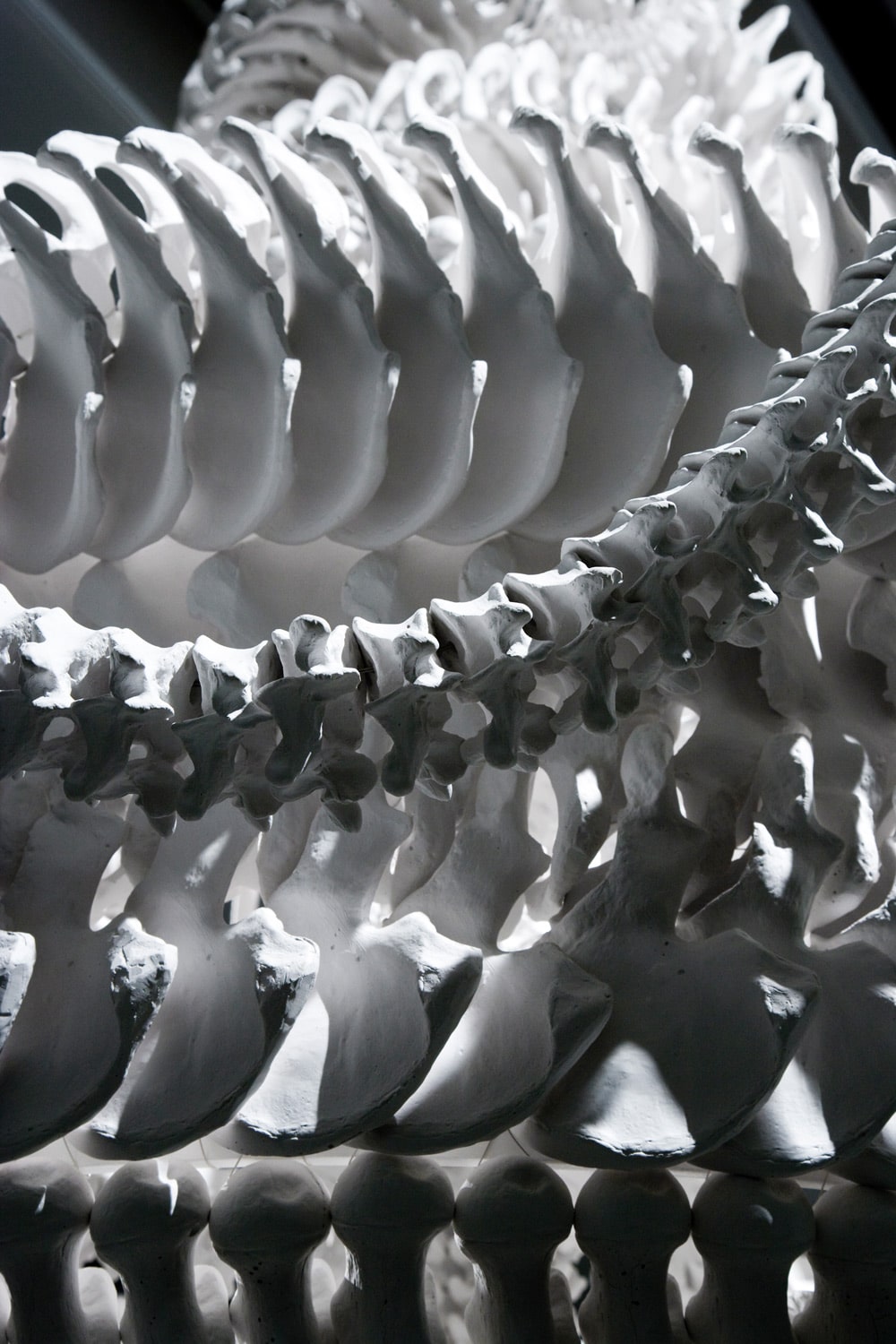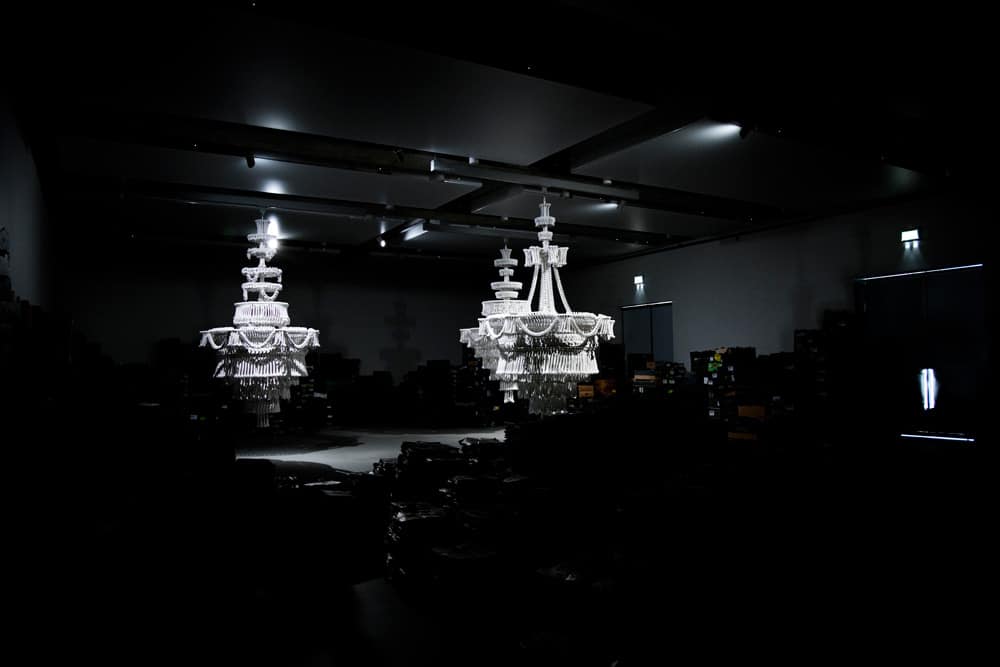 Towner
2009
Jodie Carey's work focuses on the traditions of ritual, artifice and mortality in contemporary western society. Themes of memory, remembrance and the fragility of human life thread consistently throughout her practice. Monumental scale is juxtaposed with an intimate and intense craftsmanship that transforms lowly materials into the wondrous and spectacular, offering beauty whilst simultaneously confronting us with the ugliness of life.
In the Eyes of Others is a new commission for Towner and represents Carey's most ambitious work to date. The materials that dominate Carey's practice frequently reference the corporality of the human body. Her trademark mediums: plaster, used newspapers, human hair, dust, feathers, animal bones, sugar, blood, fat and found ready-mades all come with their own plethora of art historical references, experiential associations and meanings. She deftly weaves together the visceral, physical, visual and emotional subtleties of both material and meaning, often making use of aroma to indicate human presence or a time gone by.
In the Eyes of Others centres on three chandeliers, composed from some 9,000 hand-cast plaster bones and weighing approximately one tonne each, making their suspension a great physical feat. They make reference to the spectacle of atrocities shown daily on television screens and in newspapers. The immense volume of newspaper that litters the gallery emphasises the violent and tragic events that most of us will never witness, but which form the basis of much of our understanding of terror and war. However distant these events may be, we all at some point experience the loss of a loved one and this exhibition also alludes to something more personal and fundamental about death – that, like birth, it is an event that cannot belong to us, but rather only to those around us.
Carey has worked with trinities of chandeliers earlier in her practice. Untitled Chandeliers, 2007, was constructed from dust collected from vacuum cleaners. The dust was manually rolled into centimetre-round balls suspended from wire frames, forming horrifying dreadlocks that signified all that remains of the human body after we have departed – a potent statement about the transience of life. For her installation at Towner, Carey has moved away from precarious organic matter and focuses on the monumental use of plaster – a fragile and brittle material most often employed in sculptural sketches rather than in the finished work.
The scale of the installation has given Carey opportunity to develop an immersive space in which the viewer is confronted with the sheer physicality of the objects and the labour intensity of their construction, in exacting surroundings. The chandeliers and the gallery in which they hang are not separate entities; combining with smell, temperature and lighting, they exist together as a singular environment, heightening the viewer's experience by affecting all of their senses.
Materially heavy, the chandeliers drop to the viewer's level, almost touching the ground. They do not – as chandeliers typically do – soar high overhead, as out of reach and desirable to the observer as the spectacular wealth they represent.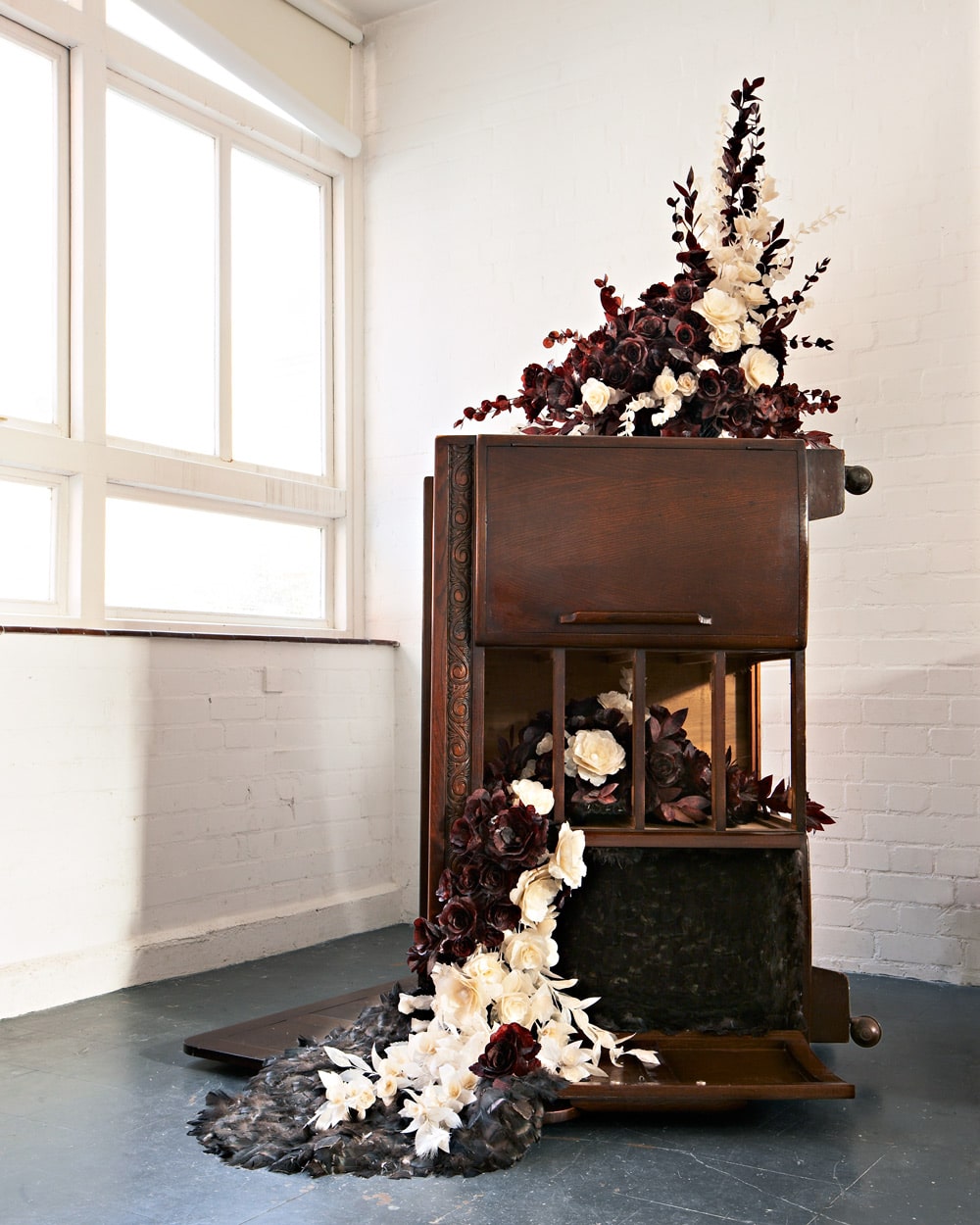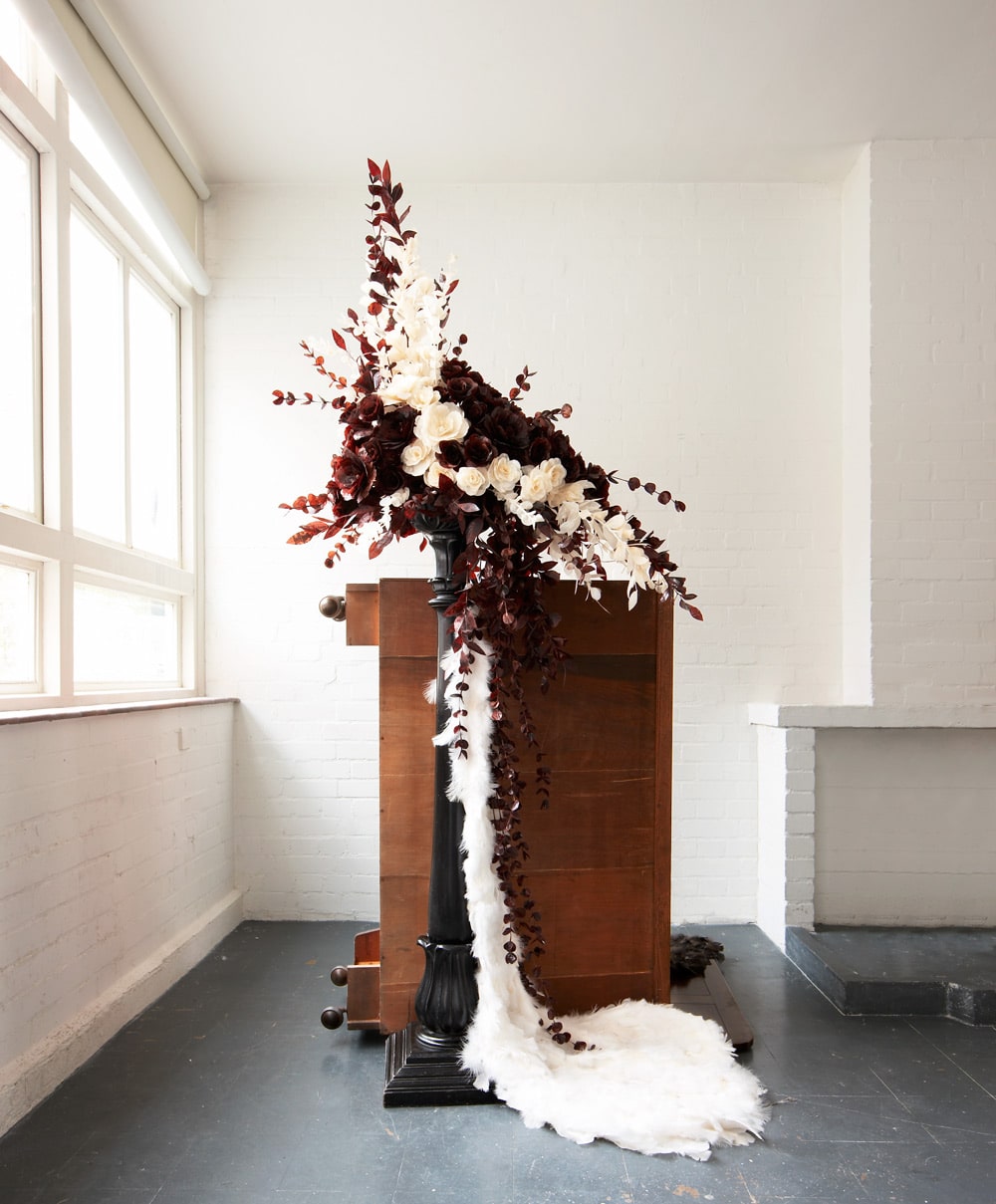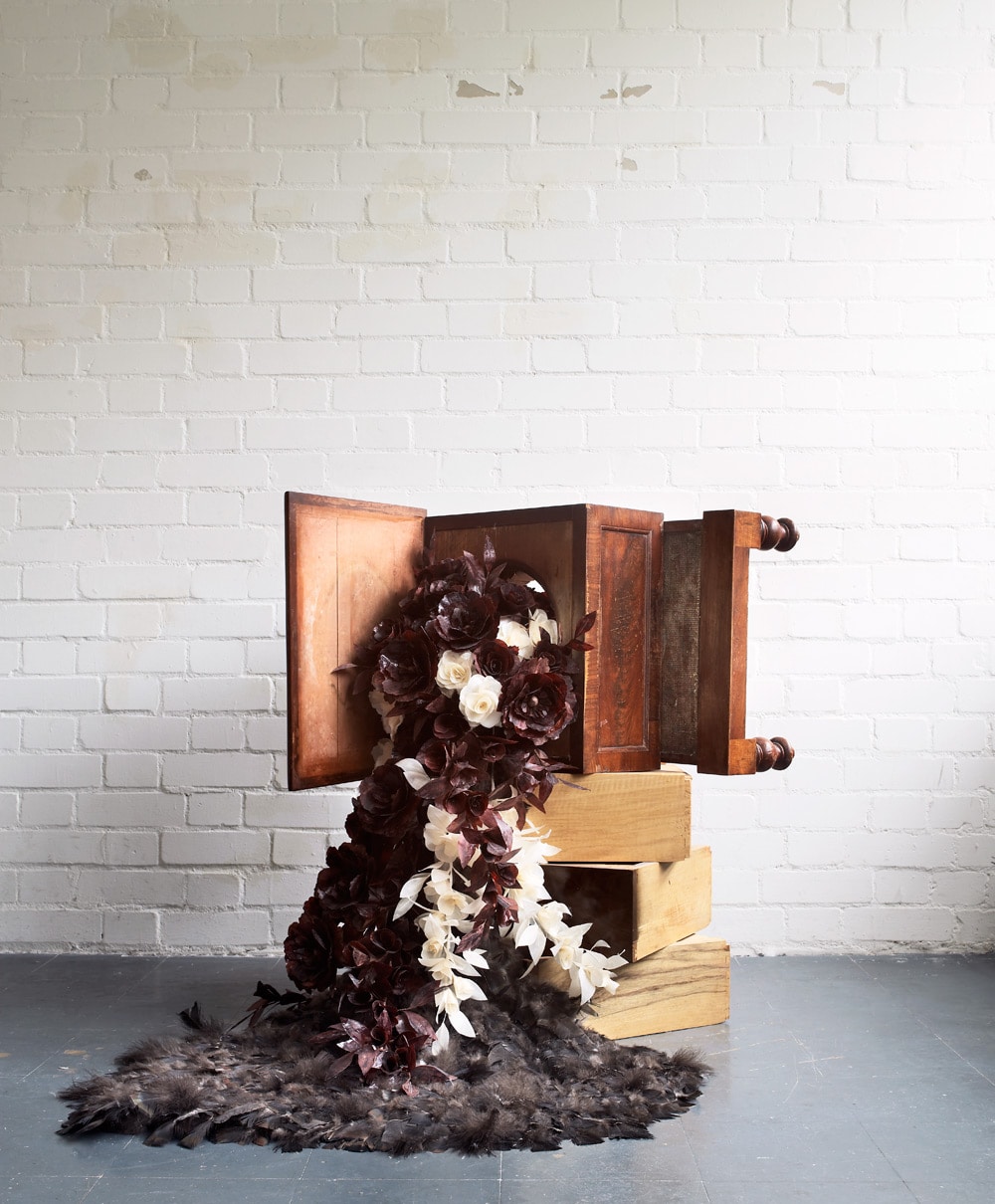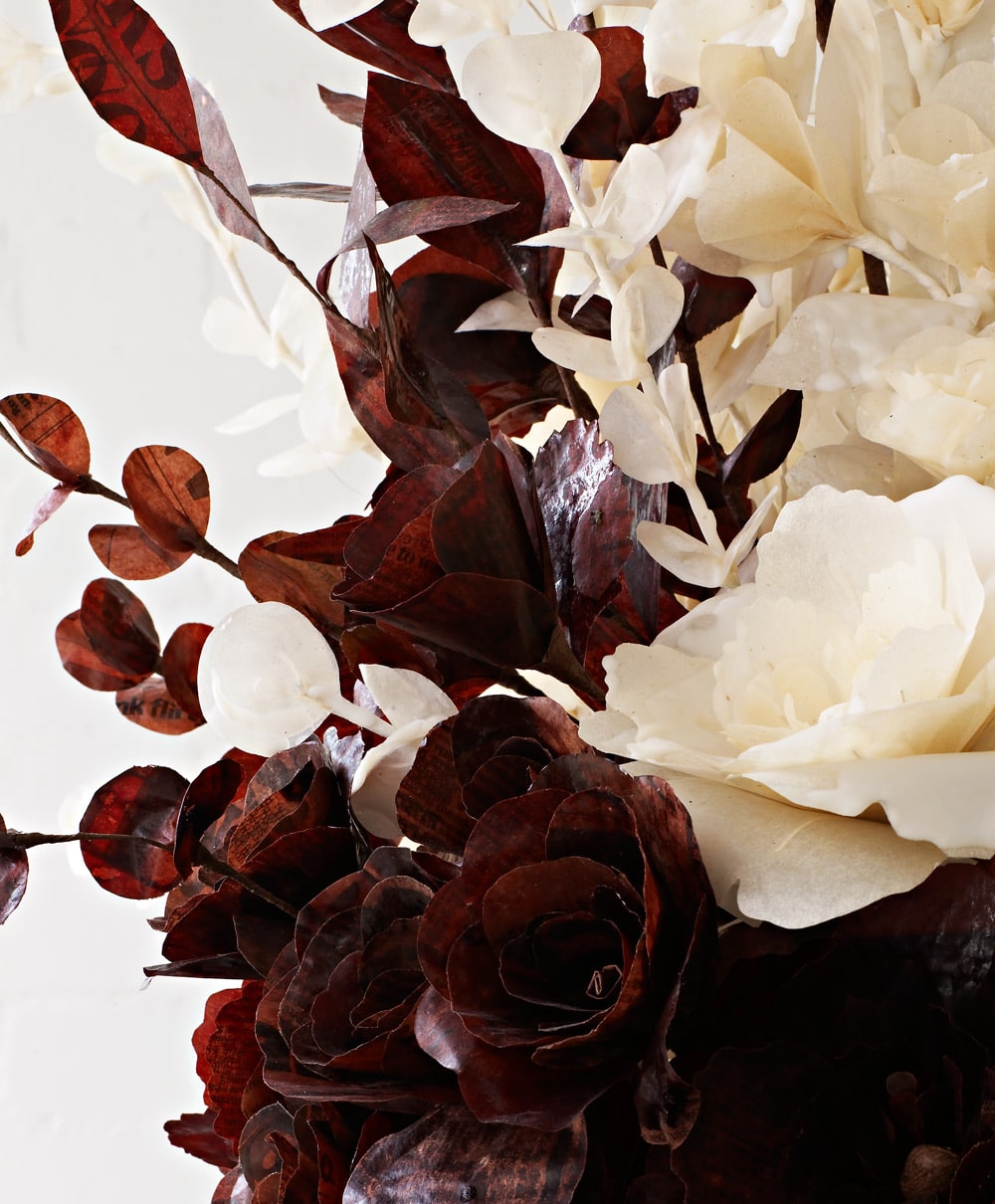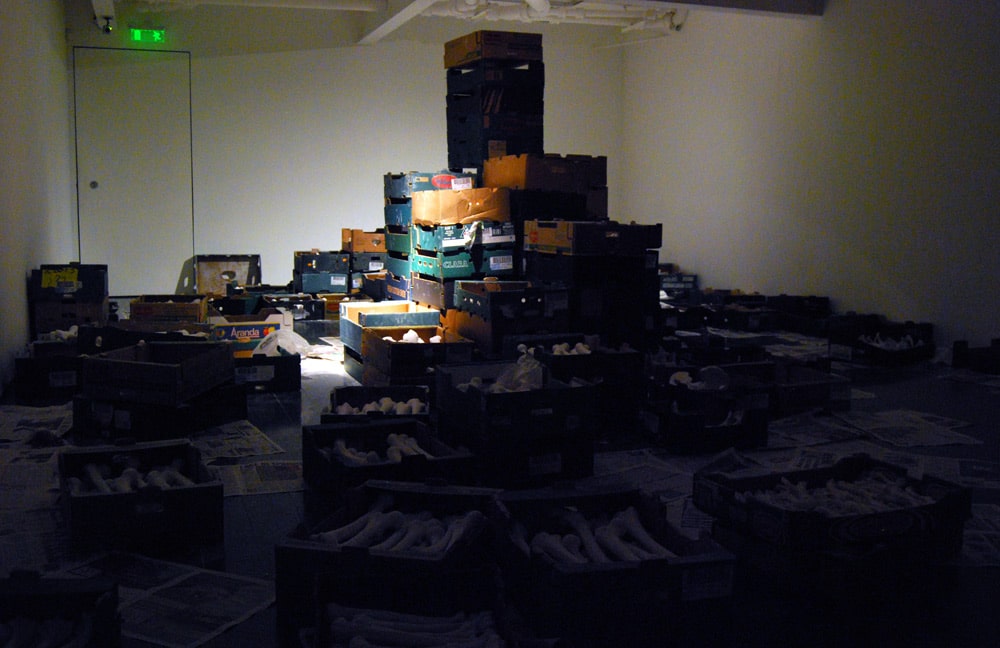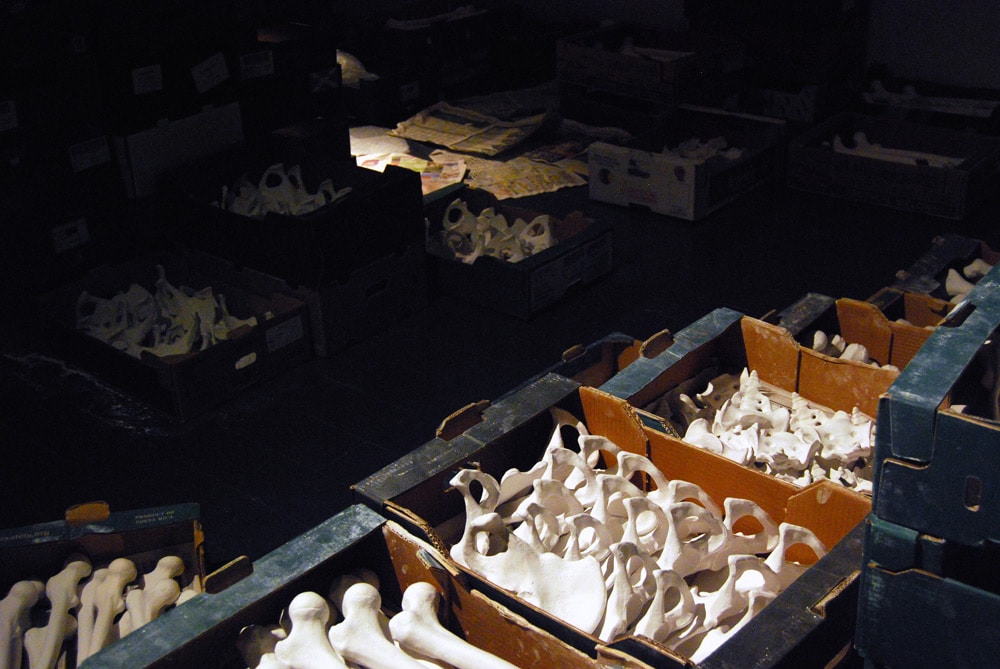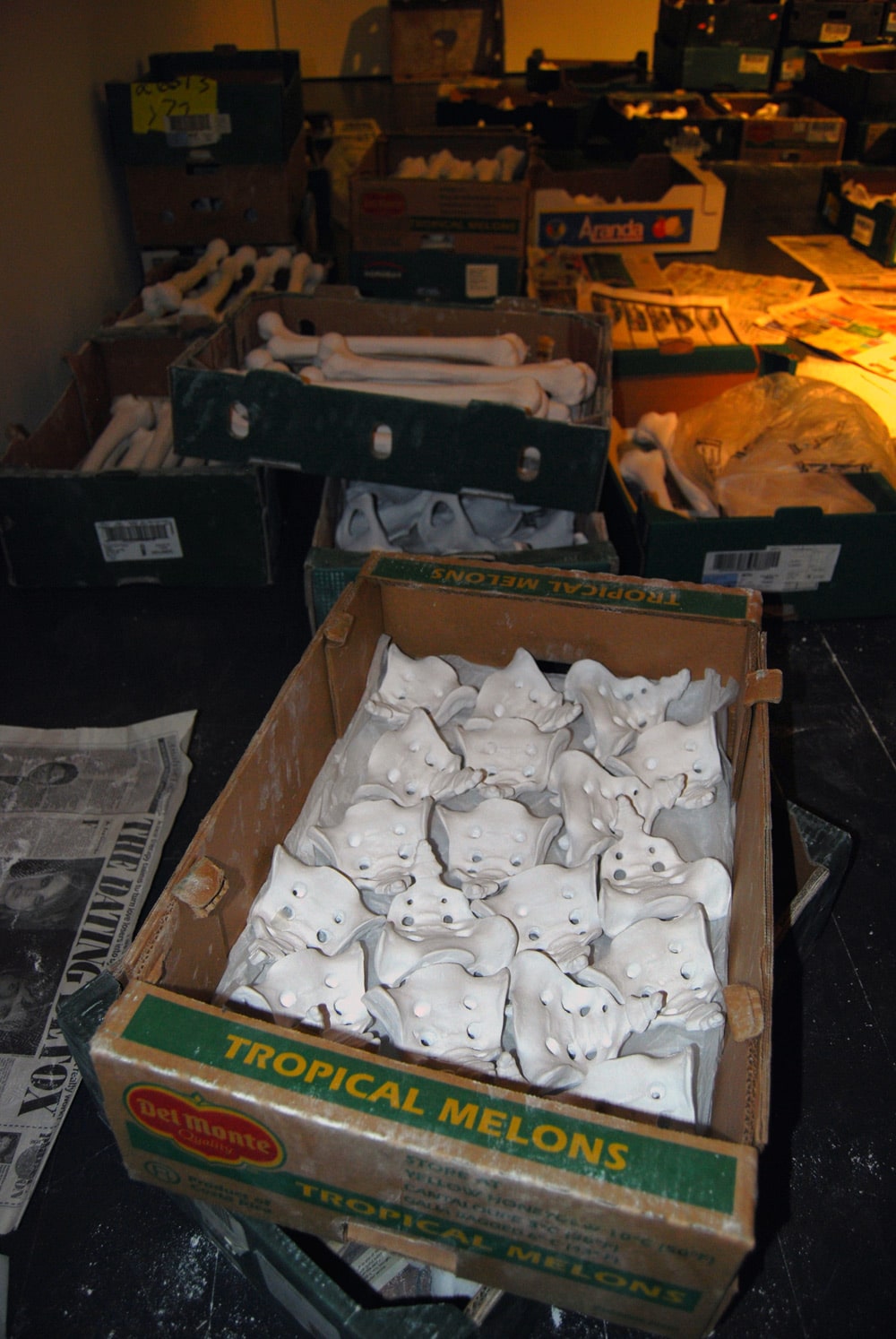 Alexa Goethe Gallery
2008
The Alexia Goethe Gallery is proud to present Jodie Carey's first London solo show. Her work focuses on the traditions of ritual, artifice and mortality in contemporary Western Society. Transforming the gallery, her large-scale sculptures and installation use newspaper dyed with blood, grease proof paper coated in lard, feathers, antique furniture and casts of over 3,000 human bones.
For this exhibition at the Alexia Goethe Gallery, Jodie Carey will show three sculptures ranging from 1-3 metres in height. A combination of the found and the handcrafted coalesce to create physical still lives with strong ecclesiastical and ritualistic overtones. Reproduction furniture such as display cabinets, chests and tables are stacked high, festooned with ornate constructions of individually hand crafted paper flowers and feathers.
The sculptures or "assemblages" in the downstairs space represent the commemorations and celebrations of death through the rituals we undertake and public gestures we make. They stand as still lives from past lives evoking a desolate, transitory beauty, underpinned by an engagingly absurdist eccentricity. On closer inspection one sees that the petals of the flowers have been coated in blood and lard, drawing out more sinister undertones. The cold, morgue-like environment that Carey has created upstairs works in dialogue with the sculptures. Boxes of bones, seemingly shipped in, dumped and neglected, acts as the anchor to the exhibition confronting us with the stark reality of death. The contrast between the abandoned atmosphere of this dark installation of 3000 handcrafted bones with newspaper-strewn floor and the polished, clean assemblages downstairs where the newspaper has been meticulously sculpted into stunning flower arrangements, reflects the frequent disparity between private and public grief. The cardboard boxes more familiar to a warehouse or closing time on a market street here embody the inescapable fact that however individual we may be in life, we shall eventually be reduced to the same remnants, one set of bones being almost indistinguishable from the next.
The exhibition as a whole ruminates on perceptions of mortality informed by notions of ritual, religion, and the Sacred, continuing the themes of ceremony, death and artifice that thread consistently throughout Carey's practice. The monumental scale is juxtaposed with the intimacy and intensity of her obsessive craftsmanship. The use of craft, skill and time transforms lowly materials into the wondrous and spectacular. Carey offers beauty whilst simultaneously confronting us with the ugliness of life.
At once political and personal, it marks Carey's increasingly universal treatment of the modern malaise, broadening her earlier focus on the ceremonious ostentation of Middle England through her large baroque-inspired chandeliers (Untitled, 2006) made of Hoover dust that was painstakingly rolled into tiny balls and then fixed to curved wire frames. Carey: "Hoover dust is the detritus of everyday life. If you die tomorrow, all that would be left of you would be in your Hoover."
The breathtaking shrines at Still, Life, Carey's debut London solo show herald both the ritual of mourning and the intransigence of life, playing on the perception that traditional memorials have an opposite effect to their intent: "There is a perversity in that once you commemorate something, it is far easier to walk away. It's not lest we forget, it's more lest we remember."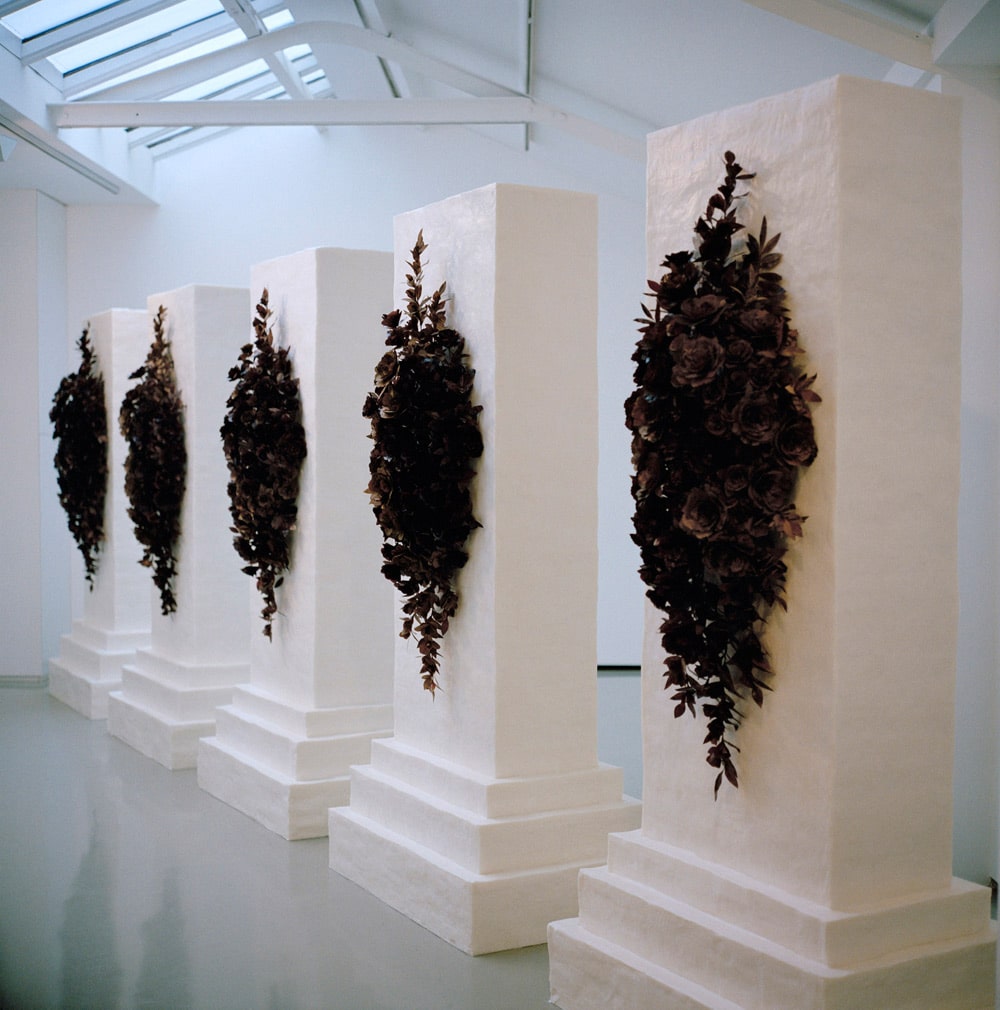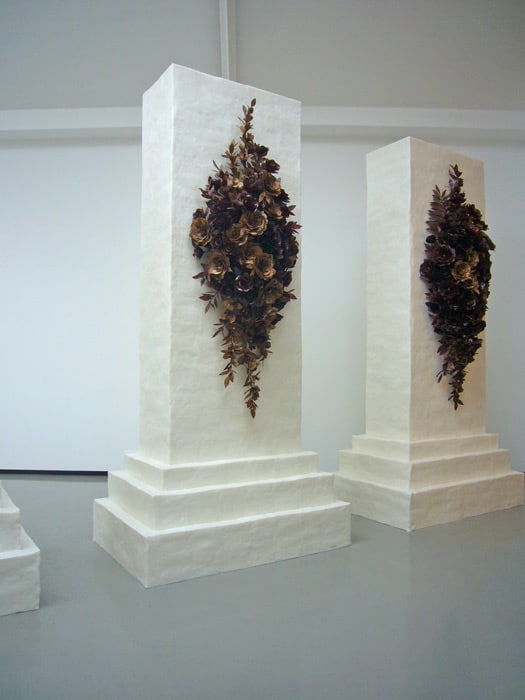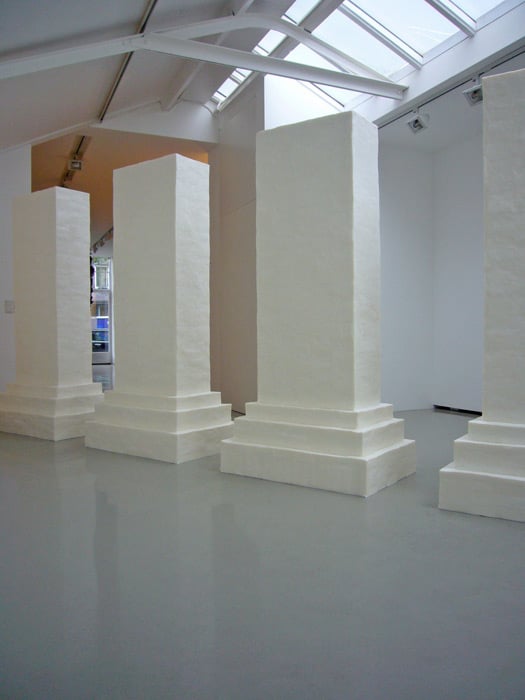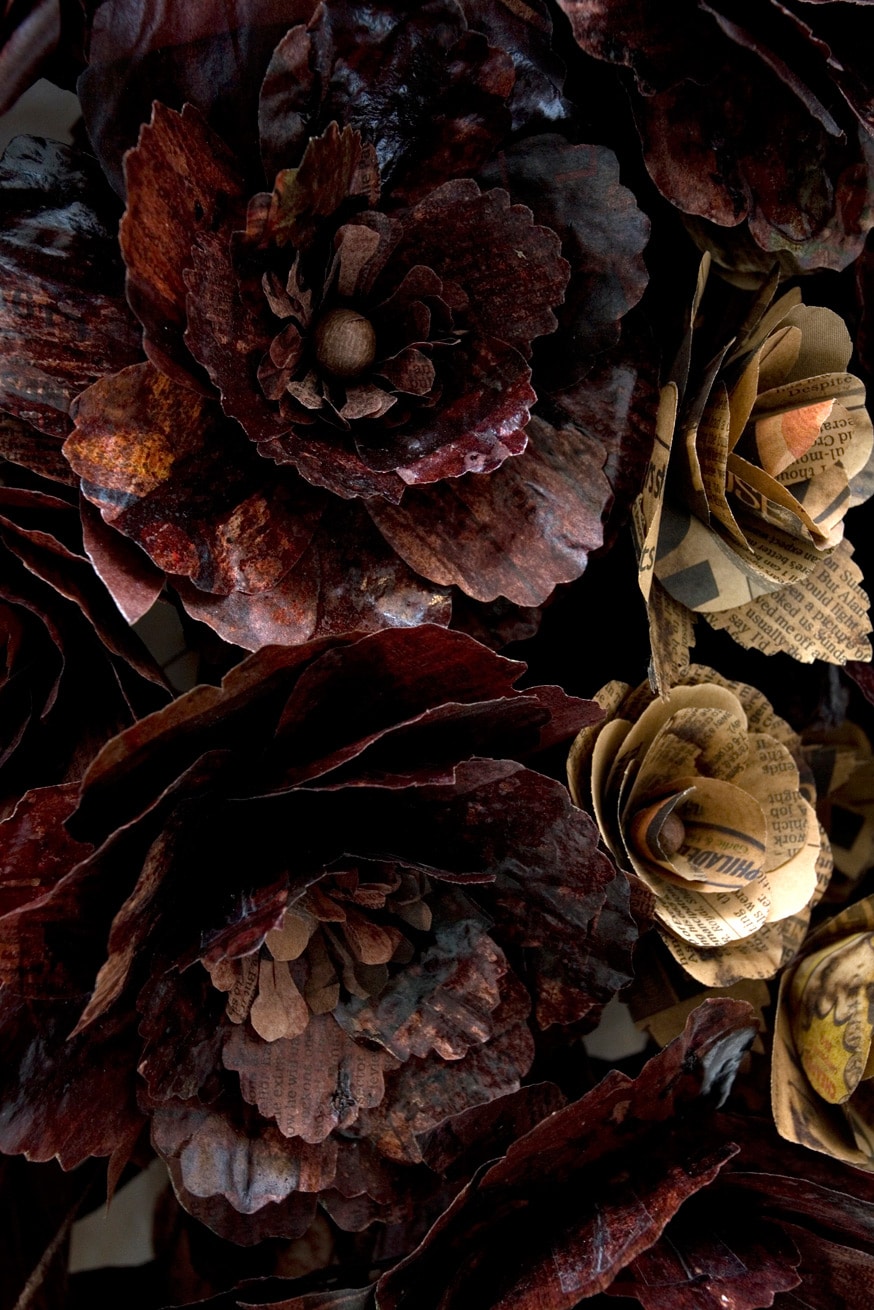 Galerie Gabriel Rolt
2007
Jodie Carey creates ceremonial objects made from mundane materials in which the quality of craftsmanship is displayed. Her installations draw us in with their familiar iconography but when taking a closer look we are being confronted with issues of ritual, artifice and mortality in contemporary Western society.
At Galerie Gabriel Rolt she will show an installation of memorial slabs (height approx. 2.5 metres) adorned with wreaths and creeping ivy made from cut newspaper stained with blood, coffee and tea. At once political and personal, it marks Carey's increasingly universal treatment of the modern malaise, broadening her earlier focus on the ceremonious ostentation of Middle England.
Another recent work is 'Untitled Monument" (2007), a 3 metre high ''cenotaph'' made from 2,000 bones individually cast in plaster and decorated with handcrafted sugar-paste flowers and ivy. According to Carey traditional memorials have an opposite effect: "There is a perversity in that once you commemorate something, it is far easier to walk away. It's not lest we forget, it's more lest we remember."
Spectacular are the three 2.5 metre baroque-inspired chandeliers (Untitled, 2006), made of vacuum dust rolled into tiny balls and then fixed to curved wire frames. Carey: "Hoover dust is the detritus of everyday life. If you die tomorrow, all that would be left of you would be in your Hoover."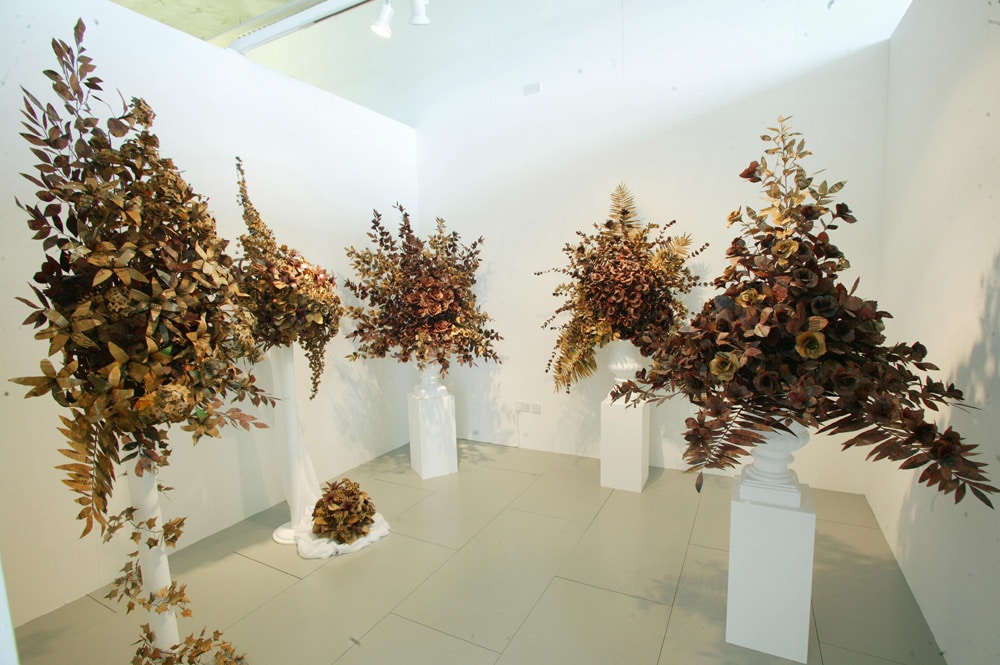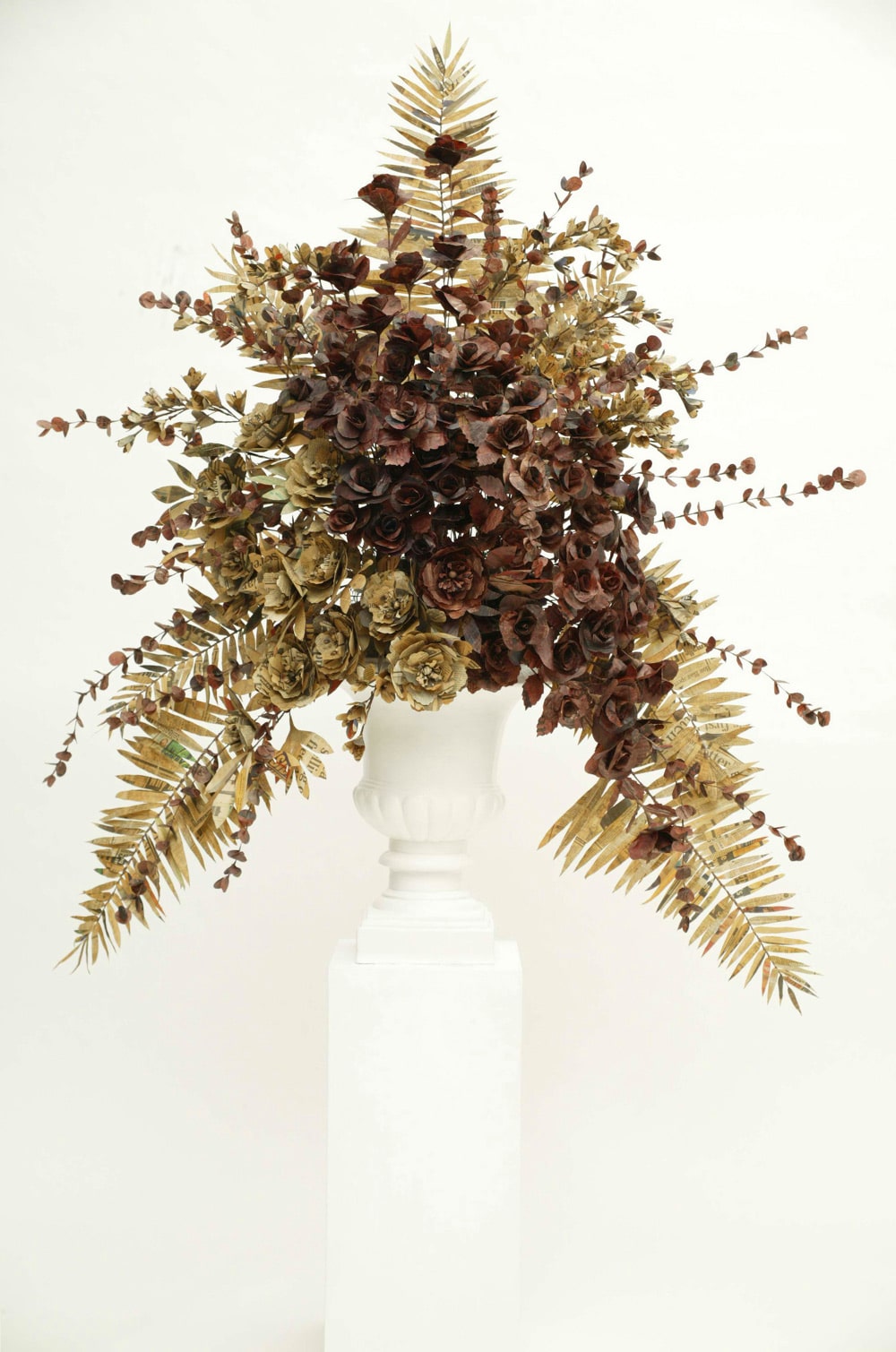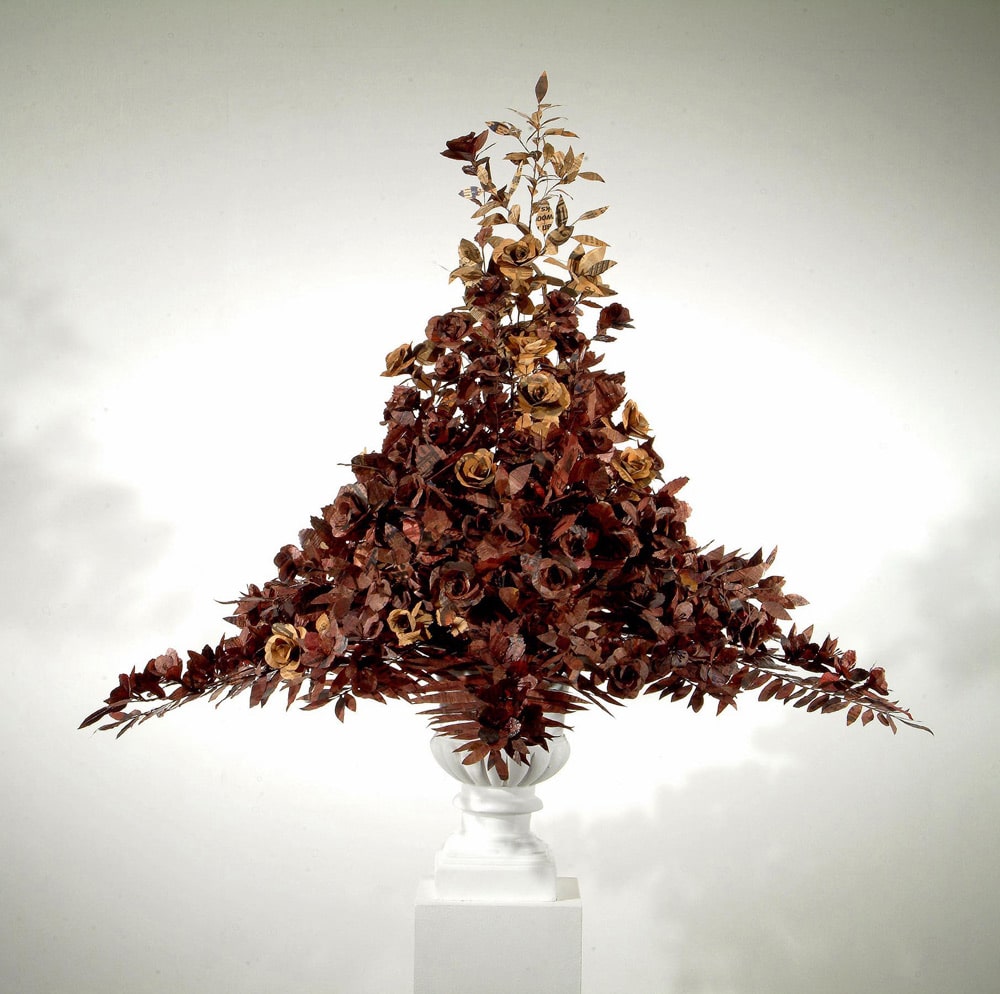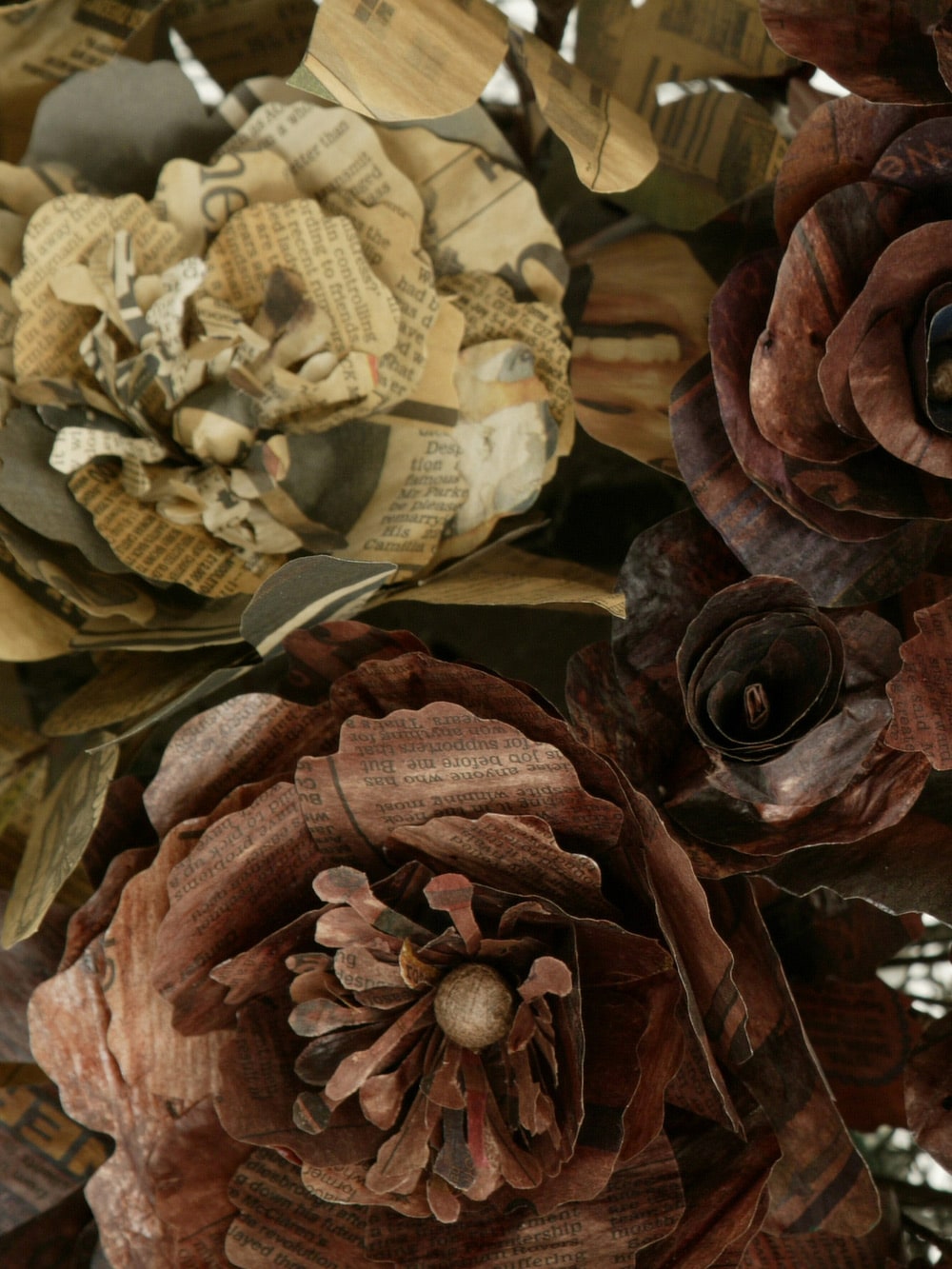 Jodie Carey, BA Fine Art, Goldsmiths College Degree Show, 2005